VOC Control Applications Within the Chemical Processing Segments Can Include:


The chemical manufacturing sector covers the transformation of organic and inorganic raw materials by a chemical process and the formation of a variety of solid, liquid, and gaseous products. Chemical processes such as chemical reactions occur in various types of reaction vessels and the products of these reactions are separated using a variety of techniques including distillation especially fractional distillation, precipitation, crystallization, adsorption, filtration, sublimation, and drying.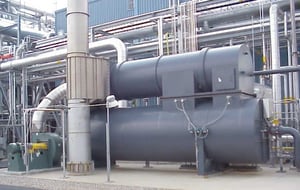 Chemical processing operators have very exacting needs that must consider safety and uptime reliability in any solution design. Chemical processing often involves corrosive exhaust streams, life hazard compounds, highly explosive concentrations, high pressure solutions, and various compliance requirements.
A variety of air pollution control systems are available for the abatement, or control of VOCs in the chemical processing industry, including adsorption, biofiltration, condensation, thermal oxidation, UV light oxidation, and wet scrubbing, as well as combinations of these processes.
Thermal oxidation and catalytic oxidation are recognized as the most effective and cost-efficient ways to control VOCs from various applications throughout the chemical processing industry. Oxidation of VOCs and other air pollutants works by simply oxidizing the air pollutants with oxygen and heat. In this environment the VOCs are converted to harmless inert byproducts like CO2, water vapor (H2O), and usable heat. These harmless by-products are released to the atmosphere or used within primary or secondary energy recovery techniques to further lower the operational costs.