Metal Decorating & Controlling Your VOC Emissions
Surface coating of cans is one of the largest industrial operations identified as sources of VOCs and as such is regulated by U.S. EPA under the Clean Air Act (CAA), 40 CFR part 63, subpart KKKK. The U.S. EPA final rule includes standards for hazardous air pollutants (HAP), as well as monitoring, performance testing, recordkeeping, and reporting requirements related to the standards. The standards require these operations to meet HAP emission standards reflecting the application of the maximum achievable control technology (MACT).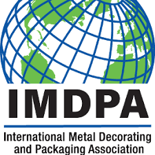 A metal can surface coating facility is any facility that coats metal cans or ends (including decorative tins) or metal crowns or closures during any stage of the can manufacturing process. It includes the coating of metal sheets for subsequent processing into cans or can parts. The coating of metal coils for cans or can parts and the coating of pails and drums are included under separate source categories in the NESHAP, 40 CFR part 63, subparts SSSS and MMMM, respectively. Four subcategories are included in the metal can surface coating category: one- and two-piece D&I (drawn and ironed) can body coating, sheet coating, three-piece can body assembly coating, and end coating.