Catalytic Products International, Inc. has developed the SENTINEL Oxidation Filtration System as an efficient and cost effect means for particulate and aerosol elimination from a variety of industrial exhaust streams.
The first generation of SENTINEL systems were developed in response to the users of our catalytic and thermal oxidizer systems, as a means to protect the oxidation equipment from contamination of particulate and heavy condensable vapors. SENTINEL systems are positioned just before the oxidizer booster fan and have proven to eliminate up to 99% of sub-micron particulate prior to entering a fume oxidizer system.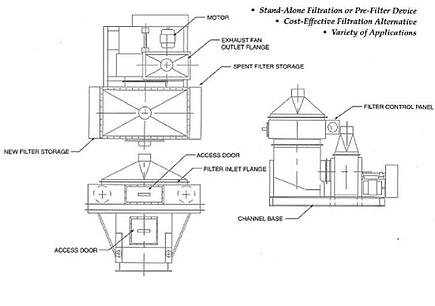 When used as a pre-filter device, the SENTINEL will provide decreased maintenance costs, improved uptime reliability, and increased equipment life. In catalytic oxidizers, such as our VECTOR, CONCORD, or VANGUARD systems, SENTINEL Pre-Filters will protect your catalyst from damaging particulate for assured performance.
As air pollution standards begin to effect less traditional air streams, thus requiring many users to seek out new control techniques, the SENTINEL Oxidation Filtration System can offer an economical solution. SENTINEL Systems have shown remarkable results for smoke and odor elimination. For users having to meet Federal or State opacity requirements or users that have odorous exhaust, SENTINEL Filtration Systems prove to be an effective technology.
SENTINEL Oxidation Filtration Systems work as a stand alone device or in conjunction with any fume oxidizer system in a completely automatic mode. The unit does not rely on operator interface and will automatically signal when filter media needs to be changed.
The SENTINEL Filtration System is an outstanding replacement to conventional cyclones, bag houses, precipitators, and strippers because of its high efficiency, compact design, and its lower capital and operating costs.