Renewables Industry
Transforming the Renewables Industry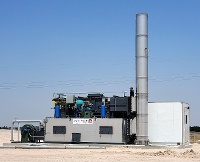 In recent years the Renewable Fuels market has continued to see increased interest and investment backing. A renewable resource is a natural resource which can replenish with the passage of time, either through biological reproduction or other naturally recurring processes. Prior to the build out of oil and natural gas resources, renewable energy and process derivatives experienced fast paced growth. As these "alternative" processes were proven and business models confirmed, full-scale operations became reality.
Applications Within The Renewables Market Segments Can Include:
Biogas Upgrading - Tail gas VOC control
Ethanol bio-refining
Cellulosic refining
Coal-bed methane ventilation
Dairy Digesters Dairy manure to RNG. Dairy biomethane.
Municipal waste water treatment plant (WWTP) resource recovery facilities- Sludge treatment to biogas (RNG)
Biomass processing and drying
For additional segments in the Renewables Industry Get in Touch.