Repair, Retrofit, and Rebuild Services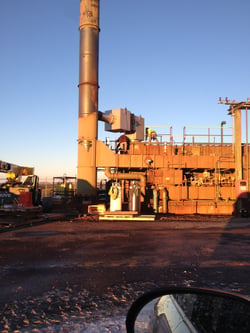 Catalytic Products International (CPI) was recently engaged by a Western Colorado Gas Processing Facility to review the existing amine treating acid gas process and the air pollution control equipment installed in an effort to help optimize the units and make improvements to the reliability of the entire system.
Introduction:
Identify root cause of numerous failures and create an action plan to improve safety, reliability, and cost of ownership.
Natural Gas Processor
Western Colorado
Amine Treatment Systems
Problem:
Existing RTO Equipment provides un-safe operation, numerous shut-downs, and high cost of operation
Flashback in the RTO causes safety concerns
Freezing of dampers and inlet ducting causes shut-downs
Frequent plugging of media beds adds to cost and lost operation
Solution:
CPI Engineering staff engaged to conduct a thorough process evaluation, identify modifications and repairs, present proposal for the repair work and present a budget proposal for new equipment comparisons.

Address customer identified concerns
Uncover and address newly identified issues
Present a detailed engineering and recommendations report with detailed action plans and costs
Results:
CPI was contracted to design and implement all suggested corrective actions

Eliminating the flashbacks, providing safe operating conditions
Lowered operating cost and reduced the frequency for media bed changeout
Saved the customer over $ 1 million when compared to the cost of new RTO equipment
Conducted the repairs in 1/3 the time required for a new equipment installation.