Process
Catalytic treatment of VOC's and other air pollutants works by reacting the harmful air pollutants over a specially designed precious metal catalyst where VOC's are converted to CO2, water vapor (H2O), and usable heat. These harmless byproducts are released to atmosphere or use an energy recovery technique to further lower the operational costs.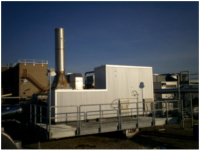 CONCORD, VANGUARD and VECTOR Catalytic Oxidation systems represent cost-effective air pollution control alternatives. When compared to thermal oxidation, their lower operating temperatures (440°F - 750°F) reduce operating costs, save on fuel, and extend equipment life. Each are designed and fabricated for your specific application, each system utilizes materials and metallurgy that will afford the highest performance, longest life, and economical procurement.
The introduction and continued improvement of these revolutionary catalytic oxidizer systems are proof of Catalytic Products International's commitment to developing innovative and effective air pollution control equipment. No other manufacturer offers you the extensive knowledge - in both oxidizers and catalyst technologies - necessary to achieve the most complete and cost effective elimination of VOC's.
THE CATALYTIC OXIDATION PROCESS The catalytic oxidation process begins with the touch of a button, which activates the system's PLC-based Temperature Safety System (TSS). The TSS control system automatically interlocks the process, energizes the blowers, purges the system with fresh air, activates the electric heater, and gradually brings the system up to the proper operating temperature. The TSS control system monitors all aspects of the oxidizers operation to safeguard against upset conditions and integrates with our operation to insure safe and economical operation.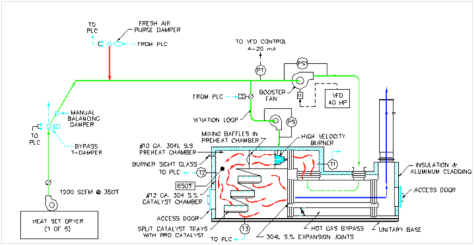 As soon as the required operating temperature is reached, the fresh air damper closes, and one or more bypass T-dampers are open to introduce process emissions to the oxidizer. A booster fan draws one or more VOC-laden exhaust from your process lines into the system. From there, VOC's are directed either through a stainless steel primary air-to-air heat exchanger or are sent directly to a condensate evaporation section before passing through the heater element.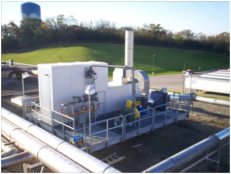 Once heated, the VOC-laden air stream enters the oxidizer's specially designed mixing chamber. Each system is known for the special designs employed to thoroughly mix the air stream constituents and ensure the highest degree of temperature uniformity before the catalyst bed. The well mixed stream enters the catalyst bed and reacts with any of the specially selected catalysts where an exothermic reaction occurs, leading to complete combustion of the VOC's. The clean stream either exits to the atmosphere or passes through the heat exchanger for heat recovery purposes.
Catalytic Products International utilizes multiple catalyst technology in all of their systems. Each catalyst product is specially selected by Catalytic Products International's Application Specialist based on process conditions, solvent types, desired destruction rates, ease of maintenance, etc.
<< View All Pre-Owned Equipment
Features
VECTOR Systems exceed today's air pollution control needs with:
Integrated Design
Integrating all the major components into one unitized system saves on field installations, improves reliability, and lowers the overall costs for air compliance. The VECTOR System utilizes only the highest quality components. From the all stainless steel mixing and combustion chamber, the heavy-duty, all stainless steel heat exchanger, the specialized burner system, to the catalyst beds, each component is contained within a well insulated, maintenance-free exterior designed for long life and low costs.


Catalyst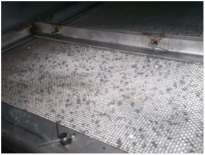 Each VECTOR System is custom engineered and built for maximum performance and flexibility. Therefore the catalyst is selected based on the ability to provide the highest performance and longest life. The catalyst choices can include platinum group metals on a pourable bead or a monolith support. Each group offers individual benefits for each application. For beaded catalyst products, poison-resistant catalyst provides resistance to many common contaminates, while low temperature formulations allow minimal fuel input. The most noticeable advantage about VECTOR Systems is found in the innovative, split-bed containment system. The catalyst is contained in a specially developed catalyst tray that offers partial catalyst replacement, faster inspections, cross-sectional analysis, and longer life. Monolith catalyst groups are used for general industrial applications or for specialized emissions such as halogenated VOCs and others.
Thermal Efficiency
VECTOR Systems lead the industry with the lowest operating costs. The primary heat exchangers are made of all high-grade stainless steels and incorporate our unique floating plate expansion system. This unique design provides for long life, high efficiency, and the ability to accommodate the highest solvent loads. VECTOR heat exchangers can be designed with thermal efficiencies up to 83% and can be equipped with fully automatic hot-gas or cold-gas bypass dampers for self-sustaining operations.
Interior and Exterior Construction
The VECTOR System is fabricated entirely of stainless steel alloys designed to prevent embrittlement and fatigue. The entire unit is continuously welded to eliminate hydrocarbon leakage and provide the highest uptime reliability. All the interior components are fully insulated with a high quality lining system designed to reduce heat losses for continued energy savings. VECTOR Systems offer these standard features:
VOC destruction up to 99% Thermal efficiencies up to 85% High volumetric turndowns Automatic volume control Automated operation via TSS control systems Split-bed catalyst containment Forced impingement gas burner systems Pre-piped and wired components Compact design with installation flexibility Pre-assembled construction on a galvanized skid
VECTOR Systems offer these optional features:
VOC destruction up to 99%
Thermal efficiencies up to 85%
High volumetric turndowns
Automatic volume control
Automated operation via TSS control systems
Split-bed catalyst containment
Forced impingement gas burner systems
Pre-piped and wired components
Compact design with installation flexibility
Pre-assembled construction on a galvanized skid
VECTOR Systems offer these optional features:
Variable frequency drives
Tandem setup for multiple VECTOR installations
Catalyst choices based on your application