Process
Rotary Concentrators are designed to take large volumes of air (typically 20,000 to 60,000 SCFM per module) containing a very low concentration of volatile organic compounds (VOC's) and adsorb these organic materials onto a zeolite adsorbent material. This adsorbent material is mounted in the "rim" of a continuously rotating (2-6 revolutions per hour) "wheel". The VOC laden air passes from the outside of the wheel, through the "rim" of the wheel (where the VOC's are removed onto the adsorbent), and into the interior of the wheel, from which the now cleaned air can either be re-circulated into the plant area from which it was drawn (to save on heating bills that would be needed to heat and condition fresh air in the winter), or discharged to the atmosphere. The concentrated pollutants are then transferred to an oxidizer for treatment.
The RCS starts by drawing the VOC laden air stream through a close coupled pre-filtration system to prevent particulate buildup on the zeolite wheel. As the process exits the pre-filtration system, it next enters the specially designed zeolite rotor, depositing its VOC's and then passes through to the induced draft process blower and out the exhaust stack. The zeolite rotor can provide up to 98% VOC removal efficiency – and is the basis of the RCS being an economical choice for large volume-low concentrated VOC abatement.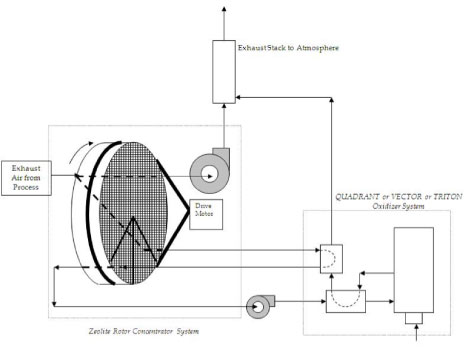 An area of about 15-20% of the "wheel" (rotor) is out of the adsorption flow path. This 15-20% area of the rotor is sealed from the balance of the rotor and is contacted with hot, clean air -- pre-heated to 350-400 degrees F by recovering heat from the stack of a thermal oxidizer associated with the system. The hot, clean air desorbs the VOC's from the adsorbent in the wheel and the adsorbent media is cooled to below 100 degrees F. The volume of the desorbing clean, hot air stream is typically 1/10 that of the original incoming air stream.
This air stream which now contains all the VOC's at about ten times their original concentration is sent for VOC destruction to either a recuperative thermal oxidizer. Typical removal / recovery efficiencies of the Rotary Concentrators is in the 96-99% range.
Features
CPI has been designing, manufacturing, and installing the world's most innovative air pollution control systems now for 43 years. Throughout our long history, we have continually strived to offer the most advanced air pollution control equipment. These constant efforts have led us to the use of zeolite Rotor Concentrators as an economical add-on technique for large volume – low concentration process exhausts. Each system is custom engineered to exceed all worldwide air compliance guidelines at the lowest overall costs.
RCS Rotary Concentrator Systems offer success because of these revolutionary features:
Modular Technology
Rotary Concentrators are modular in construction. A single module can accept exhaust rates up to 60,000 scfm. When larger air volumes are required, multiple modules would be used, or in some instances double rotors can be used.
High Removal Efficiency
By integrating one of our highly efficient thermal treatment systems:



QUADRANT Thermal Oxidizer's
VECTOR Catalytic Oxidizer's
TRITON Regenerative Thermal Oxidizer's


The RCS – coupled to the thermal treatment system provides closed loop process of the high volume – low concentrated exhaust gas. The system employees a desorbate system to return waste heat to the rotor for an overall efficient operation.


Replaceable Seals
Replaceable Seals allow the RCS system to stay as efficient years down the road as when first installed
Factory Assembled
Our zeolite rotors are factory assembled in a modular design concept. This allows our system to process the highest air volumes in a single rotor.
Specialty Zeolites allow wide range of application
CPI offers several zeolite options based on the needs of your application. Let CPI assist with a RCS evaluation to analyze the cost saving opportunities of your unique exhaust stream.
Optional Features


Secondary Heat Recovery Solutions including direct or indirect heating systems
Induced Draft Systems to keep booster fans clean of condensation
HEPA Pre-Filtration Systems
PLC control and man-machine-interface options based on your needs
Footprint design flexibility to suit your space availability