Parts & Services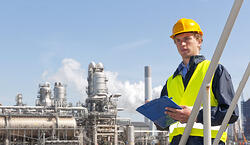 Emphasizing our single source commitment for every customer is the underlying attitude within CPI's Parts and Services Group. No one understands better that air pollution control equipment is a necessary component of today's manufacturing and process industries, and that when the equipment is not operating or it's not operating efficiently, your profitability is at stake.
With this basic understanding CPI is proud to offer a variety of services to keep you compliant and profitable:
24-Hour Service

Emergency Part Inventory

Preventative Maintenance Plans

Permit Assistance

Engineering Packages

Installation Services

Catalyst Testing

Repair – Retrofit – Refurbishment
24-Hour Service:
CPI builds the world's most rugged and reliable air pollution control systems. However we realize situations occur and problems arise that can cause unplanned downtime. Every system is backed by a 24-hour per day service line. Your staff needs to have 24-hour service support…because as we all know, any problems will be at 3:00 am ! Many problems will be easily rectified via telephone support. All of CPI's systems can now be supplied with remote monitoring equipment to provide a higher level of diagnosis capabilities.
When problems cannot be resolved, each Service Technician is empowered to make travel decisions based on the circumstance. So you can be assured that seemingly unresolved problems will be swiftly resolved by our specially trained service staff.
Emergency Part Inventory:
CPI maintains a stock of commonly used parts for all types and brands of air pollution control equipment. Parts can be purchased by credit card and expedited to your plant to get you piece of equipment back on line.
Preventative Maintenance Plans:
CPI recognizes that new comers to air pollution control equipment may feel apprehensive about maintaining their systems, or many users are minimizing maintenance staffs and just don't have the time to maintain their system. Whatever the reason, our Preventive Maintenance Plans are custom tailored to your needs. We'll work with you to design a PM plan that addresses service frequency, needs, balancing, optimization techniques, catalyst testing or system testing, among others.
With a precisely designed PM plan in place you can focus your maintenance efforts on your production equipment, minimize costly replacements, and keep accurate compliance records….all adding to your bottom line!
Permit Assistance:
Continuing permitting and paperwork after installation are always part of any compliance plan. CPI provides staffing resources to assist you with all your support needs. Whether at time of construction or years after the fact….CPI will fully support your needs to make the entire process smooth and trouble-free.
Engineering Packages:
Our Engineering staff is expert at all aspects of air handling, energy conservation, and process integration. CPI offers a variety of Engineering Services to meet your project needs. From initial feasibility studies to retro-fit energy conservation….CPI's fully staffed Engineering Department is ready to help you maintain your competitive edge.
Installation Services:
Becoming a worldwide leader in the air pollution control field isn't easy. Beyond the high quality equipment is a requirement for fast and economical installation capabilities. The best equipment will operate poorly if not professionally installed. With every system shipped there are a multitude of installation options. We can provide a site specific installation plan, provide our Field Engineering services to work with your contractors, provide a complete turnkey installation, or any combination that meets your needs. No matter what, you're assured of a timely installation and system commissioning.
Catalyst Testing:
CPI also recognizes in order to maintain an efficiently operating machine all of its parts including catalyst must be maintained. CPI can help you with this by utilizing our state-of-the-art catalyst facility. Once we have tested your catalyst we can also provide the service to clean and/or replace, as required.
Repair – Retrofit – Refurbishment:
We know with ever shrinking capital budgets that many customers still have air pollution control needs. We also know that many times it can make sense to repair your existing systems to meet today's needs. With over 34 years of experience behind us, we've seen it all. We have the expertise and parts sourcing capabilities necessary to evaluate your repair needs and complete any size project on time and under budget.