6.60 FLOATING TUBE Heat Exchanger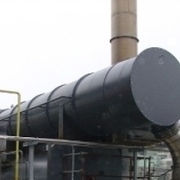 We have available one of our revolutionary FLOATING TUBE Heat Exchangers. This unit is capable of handling up to 6,000 scfm, and delivers a 60% thermal efficiency. It was designed to be mounted on top of one of our thermal oxidizers, but can be modified to fit a number of other configurations.
The 6.60 FLOATING TUBE Heat Exchanger is an externally mounted shell and tube primary heat exchanger. The FLOATING TUBE primary heat exchanger is not integral to the oxidizer's combustion chamber; thus each component is allowed to expand and contract on its own axis.
The most important feature of the FLOATING TUBE primary heat exchanger is that it does not require any expansion joints. All expansion joints will eventually fail. The QUADRANT's FLOATING TUBE primary heat exchanger incorporates free-floating tubes to eliminate thermal expansion. During the oxidizer's operation, each individual tube within the primary heat exchanger will expand and contract at different rates. By allowing the tubes to freely expand and contract, the equipment's life is greatly increased. This system represents the most technically advanced method of heat recovery available today. No other manufacturer offers the ability to eliminate stress and fatigue as offered in this package.
The primary heat exchanger will include the following:
66% nominal thermal rate efficiency (TRE)
6 inches of internal insulation, consisting of Z-block lining rated for 2,200 F
Carbon steel outer shell sandblasted, primed and finish painted with two (2) coats of epoxy gray
Stainless steel tubes welded to one tube sheet
Stainless steel tube sheets and baffle sheets
---