How to Obtain an Air Pollution Construction Permit Infographic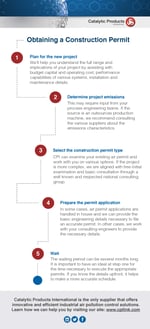 Today, U.S. Environmental Protection Agency (EPA) is more aggressively pursuing enforcement actions against industrial sources than ever before. This is a result of EPA desire to generate revenue, as well as reflecting the desires of current leadership. In this regulatory climate, it's increasingly important for emission unit operators to understand enforcement risks and liabilities.
Construction permits are required prior to beginning construction of an emission source of air pollution control equipment. Determining whether your business needs a construction permit may be a complicated question that requires interpretation. In this infographic, we break down the steps you need to take to obtain a construction permit for your air pollution control project.
Infographic Registration Form
Please complete the following form to access the Infographic.