Oxidizer Purchase and Installation Timeline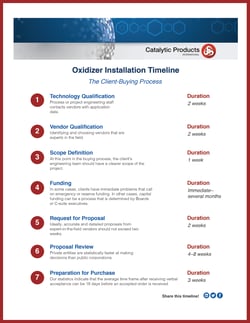 How long does it take to build an oxidizer? In this timeline download, we outline the process from start to finish in building your new oxidizer. There are several points throughout the process that rely on your purchasing decisions and several times when a company like Catalytic Products International can help ensure you are getting your new air pollution control device in a timely manner with all the features you need.
Understanding the full timeline in purchasing and building an oxidizer can alleviate timeline constraints and surprises when you make a purchase. Although these are the typical timelines, you can submit a quote form to get a specific timeline for your air pollution control device needs.
Timeline Registration Form
Please complete the following form to access the Oxidizer Timeline.