At Catalytic Products International (CPI), each project we work with is different. Regardless of the differences, we use our experience and expertise to work with all our end users and their engineering / construction / environmental partners to ensure they are addressing their air pollution control needs as efficiently and cost-effectively as possible. We want to share those stories through our blog to help you see how CPI can provide the best air pollution control solutions for your situation.
For this story, we look at a recently completed installation of a new TRITON Series Regenerative Thermal Oxidizer (RTO) to a USA based pharmaceutical company, for the abatement of Volatile Organic Compounds (VOCs). The end user selected BE&K Building Group to build the facility and source the air pollution control equipment.
CPI developed a plan to offer a solution with the highest uptime reliability and low maintenance. CPI also was on site to supervise the rigging of the unit while BE&K put the unit together.
The project required that the control device destroy at least 98% of the VOCs entering the device. CPI provided the design, supply, and installation supervision of the equipment. Equipment design and uptime reliability, along with engineering and on-site supervision were key factors for the client in selecting CPI for this project.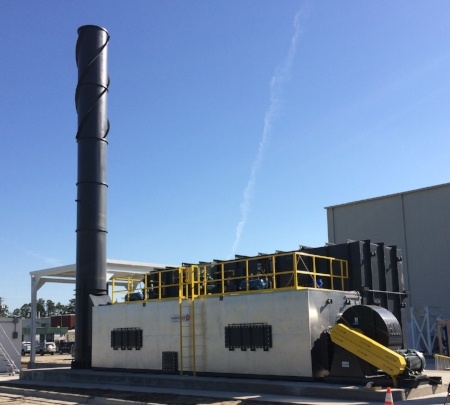 The 35,000 SCFM, TRITON Series Regenerative Thermal Oxidizer (RTO) selected includes innovative design features allowing for continuous VOC destruction which is not hindered by any operational characteristics. The systems low cost of operation will center on the use of a nominal 95% primary heat exchanger, utilizing sophisticated TSS control logic which constantly monitors and adjusts the system to maximize thermal efficiency.
"I have nothing but good things to say about CPI. The design and fabrication, along with the coordination of the Thermal Oxidizer Unit with all the various vendors sending air your way PERFECT!" said Robert Albert, Project Manager, BE&K Building Group.
The client was impressed with how well planned and coordinated the installation was and really appreciated the CPI team coming in the day before to make sure they had the right people and equipment, and staying with them until the work was done.
"The work remaining, i.e. grouting, connection of instruments, power to fans, air and gas tie-ins are all easily identifiable and will be no problem for us to complete prior to startup" said Robert Albert, Project Manager, BE&K Building Group.
If you want to know more about how CPI can help you find the best solution to your air pollution control needs, please contact us. We look forward to making you our next success story!