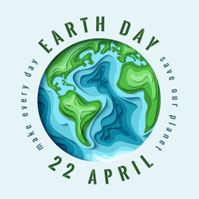 Thursday, April 22, 2021, marks the 51st annual Earth Day. Earth Day was founded by U.S. Senator Gaylord Nelson, who was concerned that environmental issues were not being addressed. He created the first Earth Day on April 22, 1970, as a "national teach-in on the environment," with celebrations taking place at universities, primary and secondary schools, and communities across the United States. The first Earth Day was effective at raising awareness about environmental issues and transforming public attitudes. It is thought that over 20 million people participated in events that day. In 1990, Earth Day became a worldwide event, with over 140 countries and 200 million people participating. Today, more than 1 billion people are involved in Earth Day activities, making it "the largest secular civic event in the world."
The theme of Earth Day 2021 is Restore Our Earth™. We must Restore Our Earth not just because we care about the natural world, but because we live on it. Every one of us needs a healthy Earth to support our jobs, livelihoods, health & survival, and happiness. A healthy planet is not an option — it is a necessity.
As we continue to observe CDC guidance for COVID-19, many virtual global events and summits are available to participate in including a global youth climate summit and an Earth Day Live digital event. The Biden administration will also convene a global leaders summit to galvanize efforts by the major economies to tackle the climate crisis.
Since the first Earth Day and the establishment of the EPA in 1970, EPA has played a key role in protecting human health and the environment. Understanding and addressing climate change is critical to EPA's mission. Through the EPA Center for Corporate Climate Leadership, EPA encourages organizations to achieve cost-effective greenhouse gas (GHG) emission reductions and drive innovations in reducing their greenhouse gas impacts. The Center provides guidance for companies to calculate and report emissions including Scope 1 emissions (direct GHG emissions).
Scope 1 GHG emissions are defined by the EPA as emissions resulting from stationary combustion including boilers, heaters, furnaces, kilns, ovens, flares, thermal oxidizers, dryers, and any other equipment or machinery that combusts carbon bearing fuels or waste stream materials.