There was some wicked weather overnight where I live. With over six inches of rain, many of the streets around my house were flooded.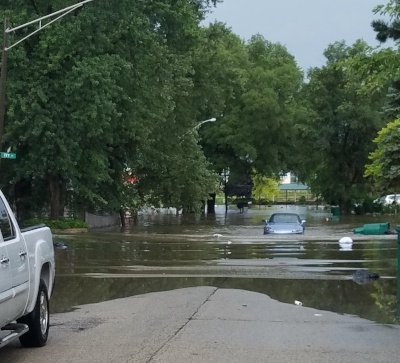 The photo above was taken this morning as a person was trying to move his car from his flooded driveway out of the water. While he was successful in getting out of the water, damage to the car was already done and he'd put himself in harms way. The police officer that arrived shortly after explained to him how dangerous it is to drive through standing water. Fast moving flood waters can sweep a car away without warning--putting the driver and any rescuers in physical danger. Similarly, safety should be the main priority when performing any sort of maintenance on equipment, no matter the size.
Maintenance
(weekly, monthly, semi-annual, annual) is important to keep your oxidizer working in top condition. Please keep in mind that
safety is priority
when performing any maintenance on any type of machinery. Operating and Maintenance (O&M) manuals contain a section on Cautions and Safety in which several levels of advisory and cautionary statements are described.








WARNING = A
hazard that can cause personal injury or death if the warning is ignored
DANGER =
A hazard that will cause personal injury or death, if the danger is ignored
CAUTION = A
hazard that will or can cause minor personal injury or property damage if the caution is ignored
Pages and pages of O&M are dedicated to safety.
Here are a few simple safety reminders:
Water by electrical equipment could be energized, and could shock or electrocute you.
Never attempt to turn off power at the breaker box, if you must stand in water to do so. If you can't reach your breaker box safely, call your electric utility to shut off power at the meter.
Never touch electric wires, switches or fuses when you're wet or when you're standing in water.
Keep electric tools and equipment at least 10 feet away from wet surfaces. Do not use electric yard tools if it's raining or the ground is wet.
If an electrical appliance has been in contact with water, have a professional check it out before it is used. It may need to be repaired or replaced.
Electrical wires - Faulty electrical wiring can cause electrical shock or death. Electrical components must be repaired immediately by qualified personnel.
Metal - H
igh air temperatures cause heat retention after oxidizer shutdown. Wear gloves when working around any hot equipment surfaces.
Fans - Fans have moving parts that can cause serious bodily injury. During operation, keep body, hands, and foreign objects away from the inlet, the outlet, and the other moving parts such as shafts, belt, and pulleys. Do not open until power supply has been locked off and shaft has stopped rotating.
Here are some other hazards to be mindful of:
The oxidizer interiors must be ventilated and checked for acceptable O2 levels before entering the oxidizer for inspections or maintenance. In addition, moving equipment must be locked, tagged out and all process connections are to be secured shut or blinded.
Guards, covers, boxes, or protective equipment must be installed and fastened before equipment is operated. Serious injury or equipment damage could result from contact with exposed or moving components.
Do not bypass or shorten the purge cycle. The purge timer must remain at the factory setting to prevent a potential burner fuel pocket explosion, which can cause serious injury or equipment damage.
Repair all burner fuel train leaks immediately. Fuel leaks can cause a hazardous explosive condition or asphyxiation.
Close the electrical enclosure doors before enabling the main oxidizer disconnect switch. Defective wiring or a sudden component failure can cause an electrical explosion capable of injury.
Do not turn off the main disconnect switch except when performing maintenance. The oxidizer's safety systems require continuous electrical power to operate properly.
Do not bypass, modify, or change settings of oxidizer safety devices. Safety devices protect operators from injury and equipment from damage.
Use care when working around the outside of a hot oxidizer. High air temperatures cause heat retention after oxidizer shutdown. Wear gloves when working around any hot equipment surfaces.
Avoid working on the inside of the oxidizer while it is hot. Allow the oxidizer to cool before performing maintenance.
Wear gloves while cleaning any areas of the oxidizer. This protects hands from cuts, scrapes, and solvents.
On a weekly basis, check the burner fuel train, blocking valves, pilot fuel solenoid valves, and process block valve for leakage or sticking. Faulty or leaking valves could allow fuel flow into the oxidizer or work area when shutdown. Fuel leaks are an explosion hazard and should be repaired immediately.
Wear safety glasses to protect eyes from flying debris when working near operating air moving equipment.
Wear hearing protection when working in areas where loud noise can cause hearing damage.
Catalytic Products takes your safety seriously. Please contact our service department immediately if you have any concerns about the safe operation of your air pollution control equipment.