Maintenance on your air pollution control device is like maintaining your motor vehicle. Typically, you do an oil change every 3 months or 3,000 miles (me, it's more like….5,000). If you are having trouble seeing out the windshield while it's raining, you install new wiper blades. Some people can do this themselves, while others let a professional do the dirty work. Each automobile has a recommended maintenance plan.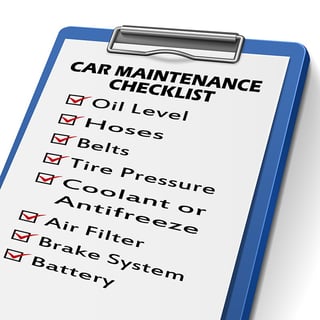 Maintenance for your air pollution control system works the same way. When your new oxidizer was installed, an Operations and Maintenance manual was most likely given to the plant personnel in charge of the system. The O&M contains a section on Maintenance. Instead of miles and months like a car, it is broken down by time and/or run hours.
We've provided some examples of guidelines for maintenance hours below. It is recommended to review the specific component O&M manual and comply with the OEM's preventative maintenance plan for each component.
Remember, SAFETY FIRST when performing any maintenance. Follow all safety procedures, including lockout/tagout and confined space entry.
Weekly Maintenance
Weekly Maintenance (performed after every 160 hours of run time) typically consists of visual external inspections. Walk around the system and check for debris around all the motor intakes. Look at expansion joints, checking for rips, tear, and holes. Inspect process ductwork for leaks. Check for moisture build up or cracks on all instruments (pressure indicators/switches).
Visually check the natural gas piping for cracks or unreported damage, and walk around piping, checking for unusual or excessive vibration. You'll also want to visually inspect the outside of the system itself by looking for areas of discoloration and checking for unusual or excessive vibration or any unusual sounds.
Check that all equipment guards, doors, and safety tags are in place and are properly attached. Replace any missing or damaged safety tags immediately. Keep all tags and warning labels in readable condition.
NOTE: Some slight changes in color may occur during the system's break in period. This is normal; however, if noted changes occur after this period, the system should be shut down and inspected internally.
Monthly Maintenance
Monthly maintenance (performed after every 640 hours of run time) consists of:
Cleaning out all sensing lines and ports to transmitters and switches.
Collecting operational data.
Lubricating fan shaft bearings (not motor bearings).
Checking gas/air linkage for tightness.
Checking the pressure gauges for proper reading.
Checking filters and replacing them as needed.
Semi-Annual Maintenance
Semiannual maintenance (performed after every 3,800 hours of run time) consists of:
Checking for cracks and cleaning the spark ignitor on the burner.

NOTE: A coated spark ignitor that is undamaged can be cleaned with a wire brush and reused.

Checking the UV Scanner for dirt on the lens.
Checking all blowers for correct operation.
Checking vibration levels on all fans.

Check vibration levels of all fans and blowers when first installed as a base line. Compare readings to earlier readings. If there is change, verify fan or blower is level and firmly anchored to concrete. If required, retighten anchor bolts and rebalance fan.
Annual Maintenance
Annual maintenance ( performed after every 7,600 hours of run time) consists of:
Lubricating all fan motor bearings.
Checking lubrication on all damper bearings.
Replacing all thermocouples for accurate sensing.
Cleaning or replacing site glass.
Checking bolt tightness on combustor access doors.
Testing all safeties by tripping each component individually to ensure all components are working correctly.
Repacking any insulation voids or openings of interior insulation caused by shrinking with cerawool strips.
Re-gasketing and resealing all access doors with new gasketing and cerawool strips.
Cycling all valves, checking all limits, and checking all strokes of actuators for correct setup.
Spare Parts
Spare Parts are critical to maintaining the equipment and providing uptime reliability. Your oxidizer consists of a lot of individual components, and the lead time on these components can range from 1 day to 8 weeks. Having a spare parts inventory on hand helps minimize unexpected down time.
If you're looking to create a maintenance plan or review the recommended spare parts specific to your system, please contact us.
Looking for more maintenance tips? Check out our previous blogs on the topic!