Catalytic Products International (CPI) recently completed the installation of a new QUADRANT SR-35,000 Thermal Oxidizer to replace an existing 20-year-old Quadrant SR-30,000, Thermal Oxidizer, Primary Heat Exchanger and TSS control system for an automotive parts supplier in the Midwest United States.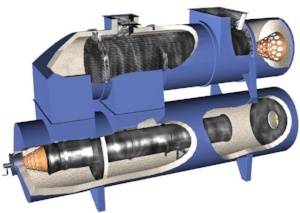 Thermal Oxidizers, like most types of capital equipment (CapEx), are designed to operate for many years; however eventually they may need to be replaced. In some situations it is possible to retrofit or upgrade portions of the existing air pollution control (APC) equipment in order to minimize the investment required to meet the production or permitting requirements. For this project, CPI was able to offer a replacement of the heat exchanger and combustion chamber of a 20-year-old QUADRANT Thermal Oxidizer, while maintaining portions of the existing equipment and utilities.
When replacing a piece of equipment one issue that can be a concern is the space constraints. Our Engineers were able to design the upgraded equipment to fit within the original oxidizer location. In the 20 years since the original system was installed there have been several changes in the area surrounding the building where the oxidizer was installed on the roof. CPI's expert installation team needed to remove the original pieces from the roof and lift the new pieces in place safely and efficiently.
The QUADRANT SR-35,000 offers continuous VOC destruction across the operational range, with low cost of operation and fully automatic operation. Recuperative thermal oxidation systems like the QUADRANT are affordable pollution control systems to purchase and operate. They offer less maintenance than other pollution control device options and are considered by many as worry free systems. Recuperative thermal oxidation systems are un-effected by contamination (silicone, heavy metals, and particulate,) and will allow for a high degree of heat recovery.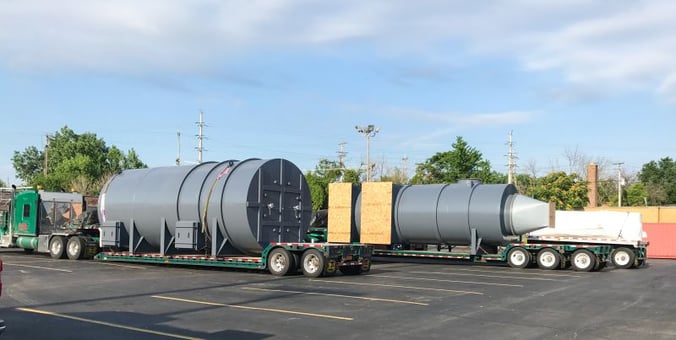 Since 1969 CPI has been providing industry leading industrial companies with solutions to their air pollution control needs. Today, CPI partners with its customers as a trusted resource in resolving the most complex air pollution and energy conservation problems. We provide our customers with innovative and cost-conscious solutions to their most complex VOC, NOx, and Odor pollution challenges. Our equipment is also at work meeting energy conservation strategies and minimizing greenhouse gas (GHG) emissions.