The dog days of summer are upon us. The month of August has many people are on vacation (or holiday, if you prefer) enjoying the hot, muggy days by taking trips to a pool or beach. Kids are chasing lightening bugs. The endless summer days, unfortunately, are coming to an end. The summer sun is not up as bright and early as it was just last month. School registration is in full swing. Some students are already participating in pre-season sport practices.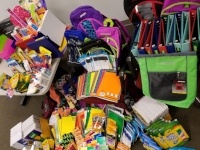 For the third year in a row, Catalytic Products employees have participated in the Walter & Connie Payton Foundation annual school supply drive. Working off a school supply list, our employees donated backpacks, notebooks, folders, pens, pencils, crayons, color pencils, glue sticks, rulers, supply boxes, and scissors.

The Walter and Connie Payton Foundation's priority is to help in-need children throughout the State of Illinois. The supplies collected are donated to schools and individual families that are in need of a helping hand.
"One act of kindness...can offer a child a
completely different outcome in life."
Walter Payton #34