Catalytic Products International (CPI) installed a VECTOR Series, Recuperative Catalytic Oxidizer (CatOX) at a new Mid-Southern USA bakery for the abatement of Volatile Organic Compounds (VOCs).
Bakeries generate air pollution emissions from several different processes (including gas combustion). In this application the bakery oven exhaust contains the VOC, ethanol, that must be removed before release to the atmosphere.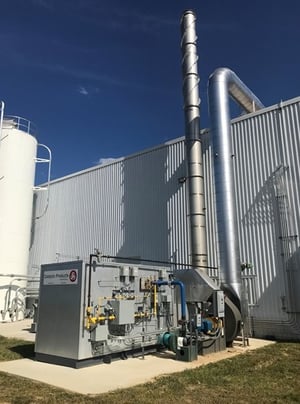 The 6,500 SCFM Catalytic Recuperative Oxidizer (CATOx) will control the exhaust gases from one (1) bread oven. The CatOx is designed to control 4,000 SCFM of process exhaust with the ability to expand the capacity of the CatOx by adding additional catalyst modules to treat process exhaust from a second oven.
The CPI Catalytic Oxidizer provides a minimum +98% VOC destruction rate efficiency.
Catalytic treatment of VOCs and other air pollutants works by reacting the harmful air pollutants over a specially designed catalyst where VOCs are converted to CO2, water vapor (H2O), and usable heat. The ceramic monolith catalyst provides a surface to promote the oxidation reaction to take place at a much lower activation temperature than normally required to oxidize the VOC, and does not get used up over time. The hot, cleaned exhaust is then passed through a primary heat exchanger where the gas streams energy is transferred to the incoming exhaust. High velocity mixing, temperature uniformity, and air flow uniformity combine to efficiently oxidize the VOCs throughout a wide range of operational requirements.
The Catalytic Oxidizer incorporates a self-cleaning guard bed located in the radiant zone downstream from the burner. The ceramic guard bed ensures that all fats, oils, and greases from this process are in vapor phase prior to the catalyst bed and traps any condensable particulate that may poison the catalyst.
To address the potential for high ethanol (VOC) loading in this application, the Recuperative Catalytic Oxidizer includes a heat exchanger with a fully modulating hot gas bypass system. This design allows the CatOx to operate at higher temperatures and tolerate the higher VOC loadings.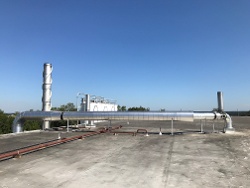 CPI provided a complete turnkey installation of the Catalytic Oxidizer system including engineering, design and rigging on a concrete pad. The installation of the CatOx and related equipment included process exhaust ductwork and bypass T-dampers, booster fan, and the high VOC hot gas bypass system. All wetted surfaces of the CatOx, including dampers, inlet ducting and exhaust stack were constructed with high-grade stainless steel to prevent formation of condensation and corrosion.
CPI has been "Enabling Clean Production Since 1969" and continues as a leading supplier of air pollution control equipment. CPI is at the forefront in providing industries including bakeries with solutions to their air pollution control needs.
Today, CPI partners with its customers as a trusted resource in resolving the most complex air pollution and energy conservation problems. We provide our customers with innovative and cost-conscious solutions to their most complex VOC, NOx, and Odor pollution challenges. Our equipment is also at work meeting energy conservation strategies and minimizing greenhouse gas (GHG) emissions.