Catalytic Products International (CPI) recently assisted a longtime customer by upgrading the PLC (Programmable Logic Controller) and HMI (Human Machine Interface) Operator Control Interfaces for a 5,000 SCFM Regenerative Thermal Oxidizer (RTO) originally installed in 2005.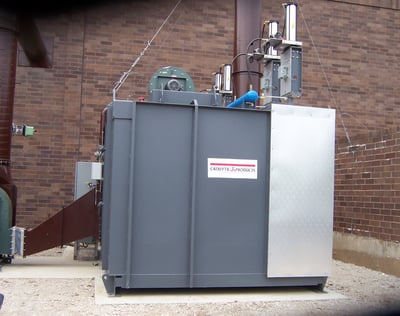 CPI Aftermarket Services has provided preventative maintenance and support to this Midwest USA customer throughout the life of this oxidizer.
While a thermal oxidizer is designed to provide an operating life of 15-20 years, many systems with proper maintenance remain in operation much longer. One of the challenges of an extended life span is that the mechanical robustness of the RTO exceeds the life cycle of the controls components, such as the PLC and HMI. PLCs and other electrical components used within oxidizer systems are constantly evolving and improving, which often leads to product obsolescence as new models are released. High costs of parts and repair for outdated technologies often require process control upgrades which feature the latest technologies and advancements. PLC and HMI upgrades can be a cost-effective, will increase reliability and performance, and reduce the costs of replacement parts.
When programming a Regenerative Thermal Oxidizer (RTO), there are two process control interfaces: the HMI and the PLC. The RTO uses human input and programmable logic to provide flexibility, added performance, and added control to the thermal oxidation process. A PLC is the brain of the RTO, instructing and initiating operation of the components of the system, based on feedback from the sensors on the RTO system.
A common strategy to extend the operating life of a functional oxidizer, is to upgrade and replace the entire controls system which is what CPI did for this customer. An additional advantage of the controls upgrade, is typically new or advanced RTO functionality from a maintenance and operational standpoint.
A controls upgrade provided by the CPI Aftermarket Services team typically includes:
New Allen-Bradley PLC Processor and corresponding input and output cards.
New Allen-Bradley operator interface (HMI)
New VFD (Variable Frequency Drive)
Labor to install new controls in the existing electrical cabinet, thereby utilizing all of the pre-existing wiring to motors, sensors, chart recorders, etc.
With this control upgrade, the customer has extended serviceable life of this oxidizer, and will continue to stay in compliance with their air permit by providing VOC destruction for years to come.
CPI has been "Enabling Clean Production Since 1969" and continues as a leading supplier of air pollution control equipment and aftermarket services. CPI is at the forefront in providing industries with solutions to their air pollution control needs and ensuring the up-time reliability of our oxidizers in order that our customers can operate their processing and manufacturing equipment.
Today, CPI partners with its customers as a trusted resource in resolving the most complex air pollution and energy conservation problems. We provide our customers with innovative and cost-conscious solutions to their most complex VOC, NOx, and Odor pollution challenges. Our equipment is also at work meeting energy conservation strategies and minimizing greenhouse gas (GHG) emissions.