Catalytic Products International (CPI) installed a Selective Catalytic Reduction (SCR) unit for the control of volatile organic compounds (VOC), carbon monoxide (CO), hydrogen cyanide (HCN), ammonia (NH3) and nitrous oxide (NOx) emissions from a calciner.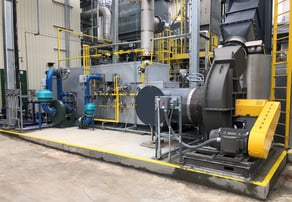 The CONCORD SCR unit controls the exhaust gases emitted from the facility's calciner. The system controls volatile organic compounds (VOC), carbon monoxide (CO), hydrogen cyanide (HCN), ammonia (NH3) emissions with a high destruction rate efficiency (DRE). Process nitrous oxide (NOx) and NOx formed by the oxidation of NH3 are also controlled.
Catalytic oxidation was selected for this application based on its ability to offer the lowest overall cost of compliance, minimal maintenance requirements, and the compatibility of precious oxidation catalysts and the pollutants identified. With the CONCORD System, the oxidation is accomplished at a lower thermal energy, temperature, than typical thermal oxidizers without consuming the catalyst in the reaction.
CPI worked closely with the customer to engineer, design, and supply the SCR unit in addition to providing installation supervision and startup services. Related equipment included dilution and fresh air purge dampers, induced draft booster fans, exhaust stack, and a pulse jet stainless steel dust collector to reduce the dust loading prior to the SCR unit. CPI was able to complete a good portion of the installation activities before the new equipment arrived on site. This approach guaranteed that the entire system was installed correctly, and the facility was back up in production with minimal downtime.
Catalytic Products International (CPI) has been "Enabling Clean Production™ Since 1969" and continues as a leading supplier of air pollution control equipment. CPI is at the forefront in providing industries including the chemical processing industry with solutions to their air pollution control needs.
Today, CPI partners with its customers as a trusted resource in resolving the most complex air pollution and energy conservation problems. We provide our customers with innovative and cost-conscious solutions to their most complex VOC, NOx, and Odor pollution challenges. Our equipment is also at work meeting energy conservation strategies and minimizing greenhouse gas (GHG) emissions.