A fiberglass insulation manufacturer in Southwest USA recently commissioned Catalytic Products International (CPI) to design, manufacture and install a new 7,200 SCFM plate and frame heat exchanger. CPI was able to provide a packaged, factory insulated, skid mounted unit which was a direct replacement for one of the facility's existing heat exchangers.

Heat exchangers are used to transfer heat from one medium to another. These media may be a gas, liquid, or a combination of both. The media may be separated by a solid wall to prevent mixing or may be in direct contact. Heat exchangers can improve a system's energy efficiency by transferring heat from systems where it is not needed to other systems where it can be usefully used. The heat transfer matrix is made up of all stainless steel designed for the particular air stream. By correctly matching the metallurgy to the characteristics of the application, the heat exchanger is designed for long reliable performance.
Heat exchangers are a critical component in the operation of recuperative thermal oxidizers and catalytic oxidizers. As a leading supplier of oxidizers, CPI has developed expertise in the design and manufacture of engineered heat exchangers which can also be used in a variety of process recovery solutions. CPI focuses on the air-to-air medium, with an emphasis on Shell & Tube Heat Exchangers and Plate & Frame Heat Exchangers.
These industrial grade heat exchangers are designed for high temperature applications which require high thermal efficiency in a limited space area. The plate exchangers utilize fully welded plates in a variety of materials ranging from 304L, 316L, 309 and 253 stainless steel alloys, depending upon the application. A unique design provides even plate spacing along the entire plate length, providing industry leading flexibility to customize a heat recovery package in both pressure drop and physical layout while hitting the targeted performance criteria.
Project Details
The fiber insulation production process produces high temperature exhaust from the kiln. This hot exhaust air then passes through a heat exchanger system consisting of several banks of heat exchangers and is then used to preheat the makeup air of the kiln. As a result of these high temperatures, the existing heat exchanger expansion joints suffered thermal fatigue and were burned out and failing. In addition, fibrous particles entrapped in the hot exhaust air were building up in the heat exchanger. The existing unit was located in a confined space above the production line, making clean out and routine maintenance very difficult.
This replacement project involved significant design and implementation challenges:
Retrofit in Confined Space
The first challenge was to design a heat exchanger unit that could be installed in the confined space without interrupting production while also providing easier access for maintenance. The new unit was pre-insulated and built in modular sections allowing the skid to be split for installation, greatly reducing the package size for crane lifts and rigging into place. To alleviate the constraints of the confined space and enable easier access, CPI designed a heat exchanger unit that utilizes two (2) plate heat exchangers with top access doors that allow the leading edge of the plate units to be fully inspected and cleaned without having to enter the confined space area.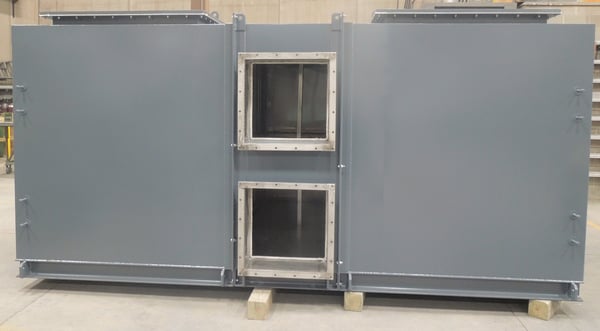 Improved Design for Thermal Stress & Fatigue
The second challenge of the design was to eliminate thermal stress and fatigue in the heat exchanger unit. Based on CPI's experience, the new heat exchanger unit was constructed with upgraded stainless steel materials to maintain material strength at elevated temperatures and eliminate embrittlement issues.
The end result was a newly designed heat exchanger system providing long reliable performance due to upgraded construction materials while alleviating any confined space restraints by allowing full access for inspection and maintenance.
Catalytic Products International (CPI) designs, manufactures, and installs specialized air pollution control equipment including thermal, regenerative, and catalytic oxidizers. Since 1969, CPI has partnered with its customers as a trusted resource in resolving the most complex air pollution and energy conservation problems. We provide our customers with innovative and cost-conscious solutions to their most complex VOC, NOx, and Odor pollution challenges. Our equipment is also at work meeting energy conservation strategies and minimizing greenhouse gas (GHG) emissions.