At Catalytic Products International, we pride ourselves on helping our clients find cost-effective solutions to their air pollution control needs. With the expertise that we provide, we can make sure their concerns are addressed and that they are happy with the end results. Here on the CPI blog, we'll be regularly sharing some of our clients' stories, demonstrating how we've helped them find the ideal air pollution control solutions.
For today's testimonial, we spoke to Adam Crews of ICL Specialty Fertilizers. ICL's plant had been built in 1989, and it was using a thermal oxidizer to destroy volatile organic compounds (VOCs). In 2003, the plant added two additional production lines, and they installed a new thermal oxidizer from CPI for these two lines. With these two oxidizers in operation, the plant was operating at approximately 60% thermal rate efficiency (TRE), so ICL was looking for a new solution which could increase that efficiency level.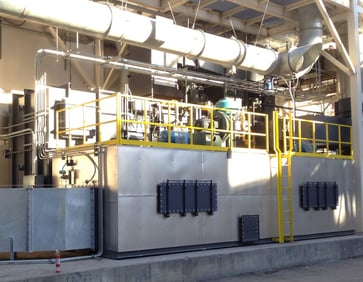 "We had dealt with CPI in the past, so we began working with them to determine how we should move forward," said Adam. "Since they were already familiar with our process, they recommended a single regenerative thermal oxidizer (RTO) for all of our production lines, and we worked with them to determine whether that would be the best solution."
Much of the work that CPI did with ICL involved engineering studies to ensure that moving from a thermal oxidizer to a RTO would be the best solution, including touring the facilities of other CPI customers who had undergone a similar process. "We wanted to prove to ourselves that the new technology would work before spending the money," said Adam. "CPI helped us really dig into the numbers and be absolutely sure that we did things right."
ICL's new RTO not only destroys VOCs to ensure that they are meeting EPA standards, it also utilizes waste heat recovery to improve efficiency. "We rob the waste heat produced by the RTO to feed our process," said Adam. "Since a RTO is more efficient than a regular thermal oxidizer, this also took a lot of back and forth number crunching to make sure it was going to work."
The end result of all this work was a single RTO rated at 95% TRE, and a facility-wide natural gas reduction of approximately 90%, which provided significant cost savings. Adam was happy with how well he was able to work with CPI to make sure everything was done right. "No matter how many times we wanted to double check the numbers, they never got frustrated with us or asked us to just trust them, and they worked hard to make sure that we had the certainty that the new solution would meet our needs."
If you want to know more about how CPI can help you realize cost savings in your own facility while meeting air pollution standards, please contact us. We hope you'll become our next success story!