At Catalytic Products International, we are proud of the great work that our team does to implement air pollution control solutions for our clients. To highlight the different areas of expertise that these team members bring to these solutions, we've been speaking to these experts and sharing their insights here on our blog.
For today's Expert Interview, we spoke to Gerald Barnas, a design engineer who works in installations. Gerald works with our clients during the quoting process to price out the equipment and work needed for a project, and once a PO has been received, he manages the on-site installation of the equipment.
For Gerald, his years of experience in both the manufacturing and air pollution control industries have proven to be essential. "I started out working in a machine shop, which gave me the opportunity to learn how things work and what is and isn't possible with different systems and equipment," he said. "Later, when I went to school to study mechanical engineering, I knew that there can be differences between what you've put down on paper and what works in the real world. Being able to work in the shop and see a project through from start to finish really helps you recognize what you can actually do versus what you think you can do. It also helps you understand how to be more cost effective, learn how to make adjustments, and make them work more efficiently."
Gerald's experience in the manufacturing industry has also proven to be invaluable. "I worked in the finishing industry for 30 years," he said, "those years of experience dovetailed nicely with what I do now. Dealing with process air produced when painting products, led to learning about regenerative thermal oxidizers (RTOs) and other air pollution control systems."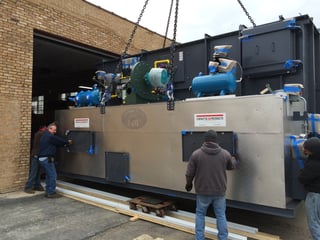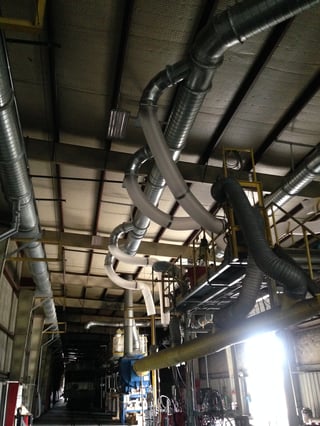 New Equipment Installations or Aftermarket Retrofits
(Watch the RTO move through a building around the customers shelving)

Today, much of what Gerald does involves being on-site for the installation of air pollution control systems. Once again, his experience has helped him understand the challenges his team can expect to face and how to address them. "Whether you're working in a new building or an existing building, air pollution control systems are often the last thing to be installed," said Gerald. "This means that we often have to deal with the water pipes, gas lines, and electrical conduits that other contractors have already installed. We usually have to figure out how to run the ductwork around all this other equipment, but it's a matter of using what we have and making things work while keeping any additional costs to a minimum, or hopefully, eliminating them altogether."
Gerald's experience also helps him understand how to address other common challenges that his team faces during installations. "Making sure we have enough room to install the equipment is a common concern," he said. "We need to have enough room for the crane to be able to move the equipment, and we often have to work around power lines, trees, and other obstacles. I've been doing this for 15 years, so I've got a pretty good idea of what to look out for and what might pop up unexpectedly."
As the coordinator of installation projects, Gerald understands the need to deliver good work and a great product. "When our customers hire us, we do the whole job for them," he said. "It's our responsibility to hire vendors and contractors, get a good price for their products and services, and make sure they deliver the best possible work. The quality of the end result reflects on us, and we need to make sure our customers are happy at the end of the day. That's why our expertise and experience are essential in making sure we're meeting our customers' needs."
We hope this look at the importance of experience demonstrates the value that we can bring to our clients. We work hard to meet our customers' air pollution control needs in an efficient and cost effective manner. If you want to know more about how CPI can help you with your air pollution control project, please contact us. We look forward to working with you!