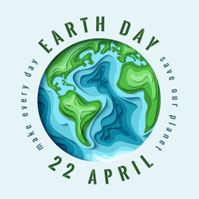 Friday, April 22, 2022, marks the 52nd annual Earth Day. Earth Day was founded by U.S. Senator Gaylord Nelson, who was concerned that environmental issues were not being addressed. He created the first Earth Day on April 22, 1970, as a "national teach-in on the environment," with celebrations taking place at universities, primary and secondary schools, and communities across the United States. The first Earth Day was effective at raising awareness about environmental issues and transforming public attitudes. It is thought that over 20 million people participated in events that day. In 1990, Earth Day became a worldwide event, with over 140 countries and 200 million people participating. Today, more than 1 billion people are involved in Earth Day activities, making it "the largest secular civic event in the world."
The theme of Earth Day 2022 is Invest in our Planet™. Smart companies are discovering that it is no longer a choice between going green and growing long-term profits — sustainability is the path to prosperity. So for both humanitarian and business reasons, it is imperative that companies of all sizes take action and embrace the benefits of a green economy.
Since the first Earth Day and the establishment of the EPA in 1970, EPA has played a key role in protecting human health and the environment. Understanding and addressing climate change is critical to EPA's mission. Through the EPA Center for Corporate Climate Leadership, EPA encourages organizations to achieve cost-effective greenhouse gas (GHG) emission reductions and drive innovations in reducing their greenhouse gas impacts. The Center provides guidance for companies to calculate and report emissions including Scope 1 emissions (direct GHG emissions).
Scope 1 GHG emissions are defined by the EPA as emissions resulting from stationary combustion including boilers, heaters, furnaces, kilns, ovens, flares, thermal oxidizers, dryers, and any other equipment or machinery that combusts carbon bearing fuels or waste stream materials.
CPI Enabling Clean Production
™

Since 1969

CPI has proudly been Enabling Clean Production™ since 1969 as a trusted resource in resolving the most complex air pollution and energy conservation problems. We provide innovative and cost-conscious air pollution control solutions to their most complex volatile organic compounds (VOC), NOx, and Odor pollution challenges. Our equipment is also at work meeting energy conservation strategies and minimizing greenhouse gas (GHG) emissions. By helping companies produce their products with lower levels of emissions, we have a direct impact on reducing global climate change.
CPI works every day to implement reliable, air pollution control solutions to enable clean production across a variety of industries and processes around the world.
Click here to learn how air pollution control equipment is applied to reduce harmful emissions.
Control technologies include: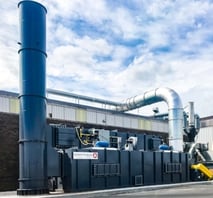 We recognize that it's not easy to balance air pollution regulations with economic growth. The industrial revolution brought
modern
conveniences that we all enjoy, but the cost of this convenience has been a rapid increase in the pollution of both air and water. Without regulations, companies would have no economic incentive to spend money on air pollution control, since this additional equipment does not improve their bottom line.
Understanding the Global Effect of Pollution
We all need to think beyond profits and look at the effects of pollution on a global scale. While relocating from a country or region that has strict regulations to one that is more lenient may improve a company's profits, this simply moves the pollution problems down the road. Air pollution flows along air currents, affecting multiple regions regardless of their regulations.
Want an example of how atmospheric events can affect people across great distances? In 2015, forest fires in Saskatchewan, Canada created a layer of smoke and ash which hung 9,000 feet above ground level in McHenry County, Illinois. That's almost 1,400 miles away!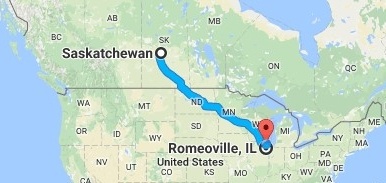 Ultimately, air pollution regulations need to be thought about on a global level, since pollution on any part of the globe will end up affecting everyone. If you're curious about how this works, you can view this real-time map that shows how pollution flows across the planet.
So What Can I Do?
Consider this: when you plant a tree, that tree will absorb about 4.5 kilograms of carbon dioxide each year. Global warming is primarily a problem of too much carbon dioxide in the atmosphere, and your single tree will only affect a minuscule portion of that. But there are 7.8 billion people in the world; imagine what a difference it would make if everyone planted just one tree!
It is important to remember that even small actions can lead to significant improvements in our air quality over time. Here are a few resources with ideas for how you can make a difference:
It's also important to stay informed and educate yourself about environmental concerns. Taking the time to do some research can help us all build some understanding of how our actions and the actions of companies, countries, and governments around the world can affect the environment of the world as a whole.
When you're looking for information about air pollution and climate change on the internet, a search for terms like "understanding climate change," "earth day events near me," or "steps I can take to impact the environment" is a good place to start. Just remember that there is a lot of misinformation out there and people who want to push a certain agenda, so always double check the information you find and determine whether your sources are reputable.
Here are a few additional resources to get started:
To learn more about CPI's air pollution control solutions, please contact us.