Keeping your air pollution control equipment properly maintained is essential for meeting regulatory requirements and efficient operation. Here on the CPI blog, we regularly share tips on maintaining your systems, and today we're taking a closer look at the importance of monthly maintenance.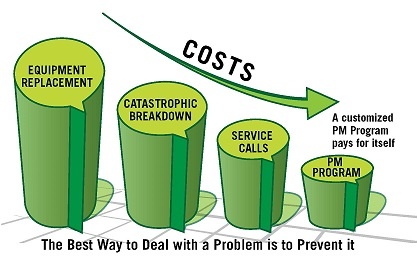 Maintenance (weekly, monthly, semi-annual, annual) is important to keep your oxidizer working in top condition. A well-maintained system limits downtime and reduces unexpected expenses.

When your new oxidizer was installed, an operations and maintenance manual was most likely given to the plant personnel in charge of the system. The manual contains a section on maintenance.

Remember, safety is priority when performing any maintenance. Follow all safety procedures, including lockout/tagout and confined space entry.

Monthly maintenance (usually performed after every 640 hours of run time) and can consists of:

Clean out all sensing lines and ports to transmitters and switches
Drain compressed air manifold
Inspect poppet proximity sensors for tightness (RTO)
Lubrication of all fan shaft bearings
Lubrication of all damper bearings
Check burner actuator for correct operation
Visual inspection of gas train for leaks
Visual inspection of ducting for any excessive vibration or support
Visual inspection of the flame for a good flame and pattern
Visual inspection of the exterior of the system for any hot spots
It is recommended to review the specific component Operation & Maintenance (O&M) manual and comply with the Original Equipment Manufacturers (OEM's) preventative maintenance plan for each component.

Sensing lines connect transmitters and/or switches to ports in the ductwork to sense pressure in specific areas. Sensing lines can be found in many different applications. They can be found most commonly with pressure switches and pressure transmitters.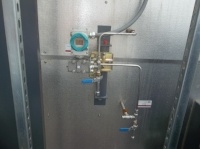 All sensing lines should have low point drains also known as "drip legs" installed. Since condensate drains by gravity, the drip leg (a pipe that extends downward from the bottom of an air piping) should be located at the bottom of the piping and designed with diameters large enough to promote collection. The amount of condensation varies with weather conditions.
TIP
It is important to make sure that sensing lines are clear of debris or moisture that may block the air flow and cause false readings on the components.
With the system shutdown, disconnect the sensing line at the component (switch or transmitter) location. Use compressed air and blow back the air in the sensing line into the ductwork.
Some transmitters and switches might be located inside an enclosure. It is important to make sure the low point drains (also known as drip legs) are also clear of debris.
Spare Parts
Spare parts are critical to maintaining the equipment and providing uptime reliability. Your oxidizer consists of a lot of individual components, and the lead time on these components can range from one day to 8 weeks. Having a spare parts inventory on hand helps minimize unexpected down time.
If you're looking to create a maintenance plan or review the recommended spare parts specific to your system, please contact us.
Looking for more maintenance tips? Check out our previous blogs on the topic!