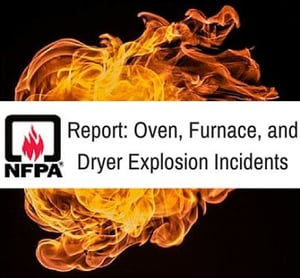 Recently, the National Fire Protection Association (NFPA) funded a report that looks to gather information regarding explosions in ovens, furnaces, and dryers. The report was prepared by Sreenivasan Ranganathan and Sean Gillis of the Fire Protection Research Foundation. The report is important work that will be used by the NFPA technical committee during review of the upcoming code revisions.
The Fire Protection Research Foundation communicates research on a broad range of fire safety issues.
The National Fire Protection Association (NFPA) is devoted to safety across more than 300 consensus codes and standards.
NFPA 86, Standard for Ovens and Furnaces, provides standardized methods to minimize fire and explosion hazards in ovens and furnaces used for industrial processing of materials, and it includes requirements for proper explosion ventilation methods for new ovens and furnaces.
The Technical Committee (TC) on Ovens and Furnaces are in the process of reviewing NFPA 86 for the upcoming revision cycle. As part of their review, the TC on Ovens and Furnaces sought information pertaining to explosions in an oven, furnace, or dryer.
According to the reported survey findings, the leading cause of explosion is human error. Other causes included failure of a safeguard, correct or appropriate safeguards not installed, and poor equipment design.
We feel that this report is significant for helping operators of combustion equipment ensure that the appliances used throughout the industrial manufacturing community are examined closely in both original design and ongoing preventive maintenance. Following NFPA-86 standards is crucial to minimizing property damage and personnel injury.
If you want to learn more about this report, you can download it from the NFPA website. If you would like to learn more about the NFPA or the Fire Protection Research Foundation, we've provided some convenient links above.
We at Catalytic Products International take our responsibility to safety seriously. Our Design Engineers stay abreast of current regulations, including those prescribed in NFPA-86. Compliance with safety checks is a part of every service inspection, equipment audit, and preventive maintenance plan we undertake. Consider visiting our aftermarket services section for a review of the various services we provide. Our team of highly skilled and thoroughly trained technicians can respond to just about any need, including maintenance services on all types of oxidizers and combustion systems. Feel free to contact us with any questions.