Catalytic Products International (CPI) recently completed the installation of a new TRITON Series Regenerative Thermal Oxidizer (RTO) to a Midwest USA location of a global paints and coatings manufacturer for the abatement of Volatile Organic Compounds (VOCs).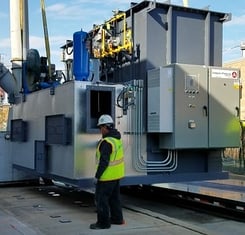 This new 5,000 SCFM Regenerative Thermal Oxidizer (RTO) was installed to replace an existing catalytic oxidizer which had reached the end of its operational life due to thermal fatigue. Since this was a replacement of an existing oxidizer, CPI could utilize not only the existing VOC collection system, but the particulate removal system as well. The exhaust system captures the VOC's from a variety of mixing, storage tanks, and filling processes and conveys them to a control device.
Catalytic Products International (CPI) took a partnership approach with the customer as it re
lates to
in
s
tallation. This means CPI provided the engineering necessary to develop a drawing package that was used by the customer to obtain quotations from third-party sub-contractors that were then hired direct by the cust
omer to complete the installation under CPI's supervision.
Since this was an existing production facility and process, CPI worked closely with the custome
r t
o minimize the downtime associated with the removal of the old catalytic oxidizer and installation of the new RTO. CPI provided on-site
supervision
to ensure coordination with the third-party sub-contractors and was able to complete a good portion of the installation activities before the new unit arrived on site. This approach guaranteed that entire system was installed correctly and the facility was back up and producing product with minimal downtime.
The 5,000 SCFM, TRITON Series Regenerative Thermal Oxidizer (RTO) includes innovative design features allowing for continuous VOC destruction which is not hindered by any operational characteristics. The systems low cost of operation will center on the use of a nominal 95% primary heat exchanger, utilizing sophisticated TSS control logic which constantly monitors and adjusts the system to maximize thermal efficiency.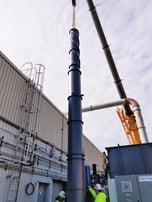 Since 1969 CPI has been providing industry leading paint and coatings companies with solutions to their air pollution control needs.
Today, CPI partners with its customers as a trusted resource in resolving the most complex air pollution and energy conservation problems. We provide our customers with innovative and cost-conscious solutions to their most complex VOC, NOx, and Odor pollution challenges. Our equipment is also at work meeting energy conservation strategies and minimizing greenhouse gas (GHG) emissions.

Please contact CPI if you have any questions. We do our best to reply as quickly as possible and we look forward to speaking with you soon