Catalytic Products International Provides Regenerative Thermal Oxidizer (RTO) to Pharmaceutical Company
Catalytic Products International (CPI) recently completed the installation of a new TRITON Series Regenerative Thermal Oxidizer (RTO) to a USA based pharmaceutical company for the abatement of Volatile Organic Compounds (VOCs) from the Fluid Bed Dryer, Film Coater, and Tray Dryer process lines.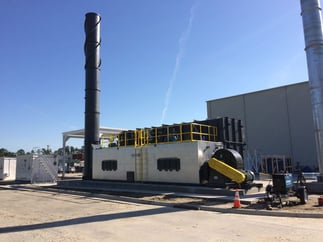 Working closely with the end user's environmental consultant, CPI provided detailed information and references which convinced the end user and their general contractor to select CPI for this greenfield expansion. Equipment design and uptime reliability, along with engineering and on-site supervision were key factors in selecting CPI for this project.
The project required that the control device destroy at least 98% of the VOCs entering the control device, on a mass basis, as measured following USEPA Methods 1 – 4 and 25A (Title 40, Code of Federal Regulations, Appendix A). CPI provided strong value to the end user with the design, supply, and installation supervision of the equipment necessary to meet these guidelines in accordance with the production loading of the plant.
The 35,000 SCFM, TRITON Series Regenerative Thermal Oxidizer (RTO) includes innovative design features allowing for continuous VOC destruction which is not hindered by any operational characteristics. The systems low cost of operation will center on the use of a nominal 95% primary heat exchanger, utilizing sophisticated TSS control logic which constantly monitors and adjusts the system to maximize thermal efficiency.
Since 1969 CPI has been providing industry leading pharmaceutical companies with solutions to their air pollution control needs.
Today, CPI partners with its customers as a trusted resource in resolving the most complex air pollution and energy conservation problems. We provide our customers with innovative and cost-conscious solutions to their most complex VOC, NOx, and Odor pollution challenges. Our equipment is also at work meeting energy conservation strategies and minimizing greenhouse gas (GHG) emissions.