Recently, Catalytic Products International (CPI) worked with a customer who determined during a routine plant inspection that they had unexpected emissions from their process. This can happen as regulations change and as plants continue to improve operations or even change products or processes. In this case, the customer voluntarily shut down their process immediately until a solution could be found.

A stack test was performed to identify and quantify where the chemicals were coming from and then turned to several suppliers to quickly find the best solution to remove these chemicals. It was imperative in this case to find an optimal solution that could be implemented as quickly as possible due to the downtime the plant was experiencing with this process while looking for a solution.
Current Equipment
In this case, there were several chloride (Cl-) based chemicals such as chloroform (CHCl3) and carbon tetra chloride (CCl4) in the process that the customer was working on removing before the chemicals reached the atmosphere. The current process utilized two (2) tower scrubber systems in an attempt to capture the chlorine (Cl-) based chemicals before they were released to the atmosphere from the process. With this solution in place, it was believed they were in compliance; unfortunately they were still not able to remove a few of the very low vapor pressure chemicals as detected during a routine plant test.
Eliminating the Unexpected Emission Problem
After learning about the problem, CPI worked with the customer to decide the best options to provide a workable solution to the problem. This solution included a Catalytic Products International thermal oxidizer (QUADRANT NR) which would incinerate the chemicals that could not be scrubbed out to prevent them from getting to the atmosphere from the process. When the chemicals are thermally incinerated they no longer have the low vapor pressure. They are simply chloride (Cl-) which can then combine with water and other substances making it easier to remove these chemicals, preventing them from getting to the atmosphere and causing harm to the environment.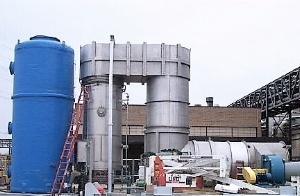 The solution provided by CPI also required a quench tower, which will bring the temperatures at the exit of the thermal oxidizer down to the acceptable operation temperature of the existing tower scrubbers. The quench tower will work to reduce the 1400° Fahrenheit temperatures down to 140° Fahrenheit. This quench tower was key to the solution as well as it allowed our customer to keep the current tower scrubbers in place without changing.
Repurposing Chemical Waste
One area of this project which was unique for this customer was that they could maintain the existing scrubber system and continue to make hydrogen chloride (HCl), bleach, and other chemicals from the process waste gases.
The new direct thermal oxidizer will give this customer the ability to continue to operate a trusted, profitable process with confidence of compliance.
Catalytic Products International (CPI) works with customers regularly to ensure that they are implementing the best air pollution control solution for their VOC, NOx, and HAP air pollution control cases specifically. If you are running a plant test soon or have any questions about current EPA regulations, please contact us and review your options with an application engineer today.
Notes on Scott's experience:
Scott Harmsen has been in the air pollution control industry for over 22 years and is the COO of Catalytic Products International (CPI). Scott received a BS in Chemical Engineering from Michigan Technological University and has advanced through successively increasing roles of engineering and operations responsibility in his career. In addition to leading the Operations side of CPI, Scott also directly manages the Application Engineering team. Scott has been involved in all aspects of the design, build, installation, and service of air pollution control solutions.