Catalytic Products International (CPI) installed a baghouse dust collection system at an East Coast USA manufacturer of pressure-sensitive adhesive tapes for the abatement of particulate matter (PM) generated during system startup of the recuperative thermal oxidizer.
Silicone based solvents are a common component in tape coating, release liner, and adhesive coating processes. These solvents provide the coatings with excellent properties such as a strong adhesion to most substrates, and high chemical, thermal, UV and water resistance. The application and curing of these silicone-based coatings releases significant emissions of volatile organic compounds (VOCs) into the environment.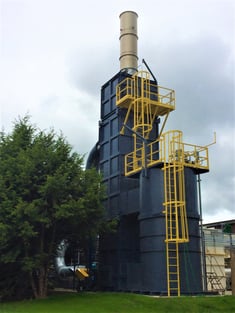 In this application the VOC emissions from two coating lines are controlled by a CPI QUADRANT SRS-14,000 Silicone Series Recuperative Thermal Oxidizer. The Thermal Oxidizer destroys the VOC emissions from two ovens with 98% destruction rate efficiency (DRE).
When oxidized, silicone will form an inorganic particulate, silicone dioxide (SiO2), which clings to hot, metallic surfaces and forms a destructive and efficiency robbing barrier layer in the exhaust system and thermal oxidizer. The Silicone Series Recuperative Thermal Oxidizer is designed to minimize the effects of SiO2 build up and allows for fast and efficient cleanout.
However, when the oxidizer cools residual particulate matter (SiO2) on the walls of the unit falls off and can exhaust to the atmosphere. To control the release of this particulate matter to the atmosphere CPI installed a purge air flow baghouse dust collection system. The system is designed to filter particulate matter upon a cold start condition when the blowers are first turned on and the particulate matter is exhausted to the atmosphere.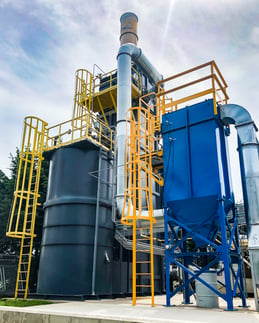 CPI provided a complete turnkey installation, including engineering, design and supply of the baghouse system. The installation of the baghouse and related equipment included stainless steel exhaust stack, baghouse isolation dampers, ductwork, and anchoring of the baghouse on a concrete pad.
CPI has been "Enabling Clean Production Since 1969" and continues as a leading supplier of air pollution control equipment. CPI is at the forefront in providing industries including web coating facilities with solutions to their air pollution control needs.
Today, CPI partners with its customers as a trusted resource in resolving the most complex air pollution and energy conservation problems. We provide our customers with innovative and cost-conscious solutions to their most complex VOC, NOx, and Odor pollution challenges. Our equipment is also at work meeting energy conservation strategies and minimizing greenhouse gas (GHG) emissions.