Catalytic Products International (CPI) installed a Catalytic Oxidizer (CatOx) at a Western USA bakery for the abatement of Volatile Organic Compounds (VOCs). The primary source of emissions at a commercial bakery is the oven, which produces Volatile Organic Compounds (VOCs) such as ethanol and carbon dioxide from the release of compounds formed in the yeast fermentation process.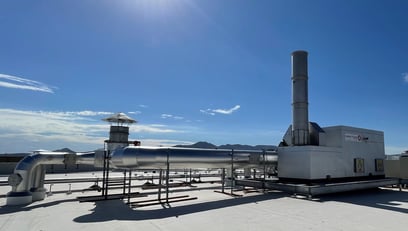 As part of a facility expansion to increase production capacity, the customer installed a new tunnel oven. The CPI 10,000 SCFM VECTOR Series Catalytic Oxidizer will destroy the exhaust gases emitted from the new multi-zone oven with +98% VOC destruction rate efficiency (DRE) and a high thermal rate of efficiency (TRE). The VECTOR Catalytic Oxidizer is specifically designed to manage the high moisture, fats, oils, and greases present in bakery oven exhaust. To address the high moisture content of the exhaust streams and potential for corrosion all wetted surfaces including the exhaust stack, inlet ducting, dampers, and booster fan were constructed of stainless steel.
Catalytic treatment of VOCs and other air pollutants works by reacting the harmful air pollutants over a specially designed catalyst where VOCs are converted to CO2, water vapor (H2O), and usable heat. The ceramic monolith catalyst provides a surface to promote the oxidation reaction to take place at a much lower activation temperature than normally required to oxidize the VOCs and does not get used up over time. The hot, cleaned exhaust is then passed through a primary heat exchanger where the gas stream's energy is transferred to the incoming exhaust. High velocity mixing, temperature uniformity, and air flow uniformity combine to efficiently oxidize the VOCs throughout a wide range of operational requirements.
CPI worked closely with the customer to provide a complete turnkey installation including engineering, design and supply of the Catalytic Oxidizer. The roof mounted installation and related equipment included process exhaust ductwork, dampers, booster fan, exhaust stack, electrical installation, numerous access doors, and spare parts. CPI was able to complete a good portion of the installation activities before the unit arrived on site and delivered the Catalytic Oxidizer fully shop assembled and skid mounted. This approach guaranteed that entire system was installed correctly, leading to a short start up and commissioning time frame, getting the customer fully operational with minimal downtime.
Since 1969, CPI has been Enabling Clean Production™ as a leading supplier of air pollution control solutions. CPI is at the forefront in providing industries including bakeries with solutions to their air pollution control needs.
Today, CPI partners with its customers as a trusted resource in resolving the most complex air pollution and energy conservation problems. We provide our customers with innovative and cost-conscious solutions to their most complex VOC, NOx, and Odor pollution challenges. Our equipment is also at work meeting energy conservation strategies and minimizing greenhouse gas (GHG) emissions.