Catalytic Products International (CPI) recently completed the installation of a new TRITON Series Regenerative Thermal Oxidizer (RTO) at a Midwest USA manufacturer of specialty tapes for the abatement of Volatile Organic Compounds (VOCs).
The new 30,000 scfm Regenerative Thermal Oxidizer (RTO) replaced an existing CPI VECTOR-21500 Catalytic Oxidizer originally installed and commissioned in 1997. Since 2010 the customer experienced some formulation changes resulting in increased amounts of silicone. These changes resulted in deactivation of the catalyst leading to lower VOC destruction rates and excessive maintenance expenditures for replacement catalyst.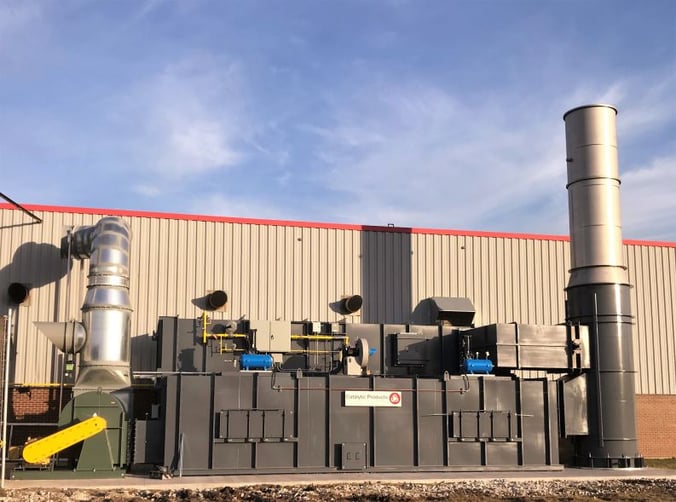 Thermal treatment of VOCs and other air pollutants works by a simple reaction of the harmful air pollutants with oxygen and heat. In this environment, the VOCs are converted into harmless inert byproducts, water vapor (H2O), and usable heat. These harmless by-products are typically released to the atmosphere, or in some cases use an energy recovery technique to further lower the operational costs.
TRITON-Series Regenerative Thermal Oxidizers (RTOs) are considered among the world's most advanced regenerative thermal oxidation systems. These specially designed and proven systems combine the basic principles of time, temperature, and turbulence – matched to industry leading construction and design features.
The TRITON Series Regenerative Thermal Oxidizer (RTO) uses a bed of ceramic material to absorb heat from the exhaust gas. It then uses this captured heat to preheat the incoming process gas stream and destroy air pollutants emitted from process exhaust streams. Because the ceramic media is a heat sink material it allows for much higher thermal efficiencies in a smaller footprint.
The operation manufactures specialty tapes with two web coating lines that are now ducted to the TRITON Regenerative Thermal Oxidizer (RTO) to destroy the incoming VOC's to +98.5%, or to a lower limit of 30 ppm as C₁ at a thermal rate efficiency (TRE) of 95%. Since this was a replacement of an existing oxidizer, CPI could utilize the existing VOC collection ductwork and bypass T-dampers inside the building and send the exhaust airstream directly to the TRITON Regenerative Thermal Oxidizer (RTO).
CPI choose to replace the existing catalytic system with a TRTION RTO because of the of its ability to destroy VOC's and it tolerance to SiO2 poisoning. The tolerance to silicone within precious metal catalyst is very low. The special media bed design of the TRITON RTO provides much more flexibility and tolerance to small amounts of SiO2.
CPI worked closely with the customer to minimize the downtime associated with the removal of the old catalytic oxidizer and installation of the new RTO. The new oxidizer was installed adjacent to the existing unit, so that it could be fully rigged, assembled and wired without disrupting production. CPI provided on-site supervision to ensure coordination with the third-party sub-contractors and was able to complete a good portion of the installation activities before the new unit arrived on site. This approach guaranteed that entire system was installed correctly, and the facility was back up and producing product with minimal downtime.
Since 1969 CPI has been providing industry leading printing and coatings companies with solutions to their air pollution control needs.
Today, CPI partners with its customers as a trusted resource in resolving the most complex air pollution and energy conservation problems. We provide our customers with innovative and cost-conscious solutions to their most complex VOC, NOx, and Odor pollution challenges. Our equipment is also at work meeting energy conservation strategies and minimizing greenhouse gas (GHG) emissions.