Catalytic Products International (CPI) installed a TRITON Services Regenerative Thermal Oxidizer (RTO) at a Southern USA bakery for VOC control.
Bakeries can generate air pollution emissions from several different processes (including gas combustion). The main VOC emitted from bakery operations is ethanol, where the primary emission source in a bakery is the oven.
The new 6,000 SCFM Regenerative Thermal Oxidizer (RTO) was installed to replace a competitor's catalytic oxidizer which experienced premature catalyst deactivation. The catalyst bed became deactivated due to catalyst fouling from a silicone release spray agent used during the baking process. This would continue to be an ongoing problem with the Catalytic Oxidizer resulting in increased expenditures for cleaning and catalyst replacement.
CPI worked with the customer to select the TRITON-6.95 Regenerative Thermal Oxidizer (RTO) to safely and effectively treat the VOC emissions from the bakery lines and eliminate concern over silicone fouling. The exhaust gases emitted from two (2) individual bread ovens were ducted to the new 6,000 SCFM Regenerative Thermal Oxidizer (RTO) to destroy the incoming VOC's to +98% at a thermal rate efficiency (TRE) of 95%.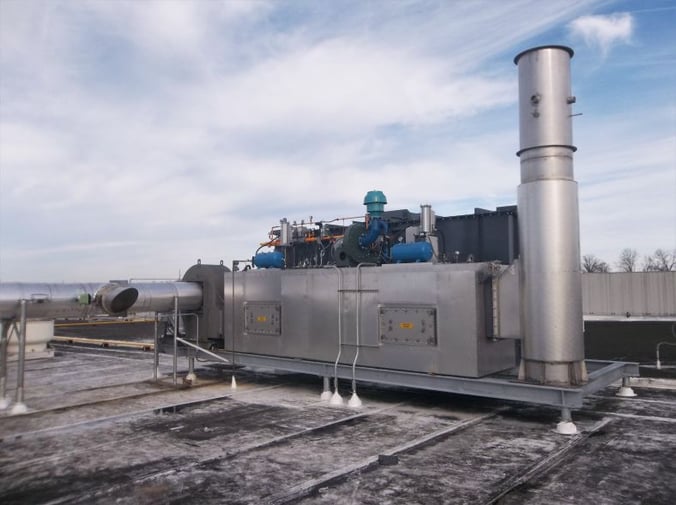 CPI supported the customer by providing on-site supervision to minimize the downtime associated with the installation of the TRITON-6.95 Regenerative Thermal Oxidizer (RTO). CPI provided a fully skid mounted, pre-piped and pre-wired, RTO with the media installed which was installed on the roof. This approach ensured that entire system was installed correctly, and the facility was back up and producing product with minimal downtime.
In order to maintain 24/7 production and ensure continuous destruction of the VOC emissions, CPI provided the additional ductwork to enable the customer to utilize the existing catalytic oxidizer as a back-up to the RTO during routine maintenance
Since 1969 CPI has been providing industry leading food and beverage manufacturing companies including bakeries with solutions to their air pollution control needs.
Today, CPI partners with its customers as a trusted resource in resolving the most complex air pollution and energy conservation problems. We provide our customers with innovative and cost-conscious solutions to their most complex VOC, NOx, and Odor pollution challenges. Our equipment is also at work meeting energy conservation strategies and minimizing greenhouse gas (GHG) emissions.