Catalytic Products International (CPI) recently completed the installation of a new TRITON Series Regenerative Thermal Oxidizer (RTO) at a Midwest USA manufacturer of silicone rubber insulation products. The RTO is used for the abatement of Volatile Organic Compounds (VOCs) generated during the silicone web coating process.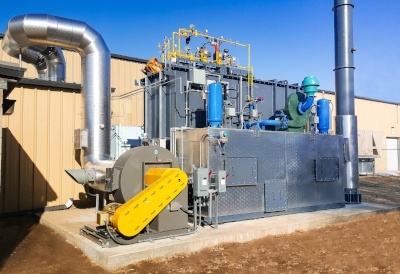 The new 4,000 SCFM Regenerative Thermal Oxidizer (RTO) was installed to replace an older Thermal Recuperative Oxidizer. The existing unit suffered from leaks, thermal fatigue and silicone buildup and was not expected to pass its next compliance test. Upgrading or repairing the existing oxidizer was not a good long-term solution due to the age and condition of the interior structure.
Based on recommendations from CPI, the customer choose to replace the existing thermal recuperative oxidizer with an RTO because of its ability to destroy VOC's and its tolerance for small amounts of particulate including silicone. Regenerative Thermal Oxidizers (RTOs) also provide lower capital costs and higher thermal efficiencies resulting in lower fuel costs.
The Regenerative Thermal Oxidizer (RTO) system incorporates specialized ceramic media in the regenerator (heat transfer bed) to allow thermal efficiencies up to 97%. RTOs operate by preheating the process air as it passes upward through the first ceramic heat exchange media. This pre-heated air then exits the heat exchange media and enters a combustion chamber where it is heated to the setpoint temperature and oxidization of the VOC's is completed. Hot, clean air is then passed downward through the second ceramic heat exchange media bed where it is cooled. This regeneration of the ceramic heat exchange media usually takes place in 3 minute cycles, meaning that the flow through the oxidizer changes direction every 3 minutes. This regeneration of the heat exchanger allows for much higher thermal efficiencies than traditional recuperative style heat exchangers.
In this application the VOC emissions from two coating lines contain a blend of different solvents including MEK vapors and a blend of xylene, naphtha and ethylbenzene vapors. The exhaust from the production lines is ducted to the TRITON Regenerative Thermal Oxidizer (RTO) to destroy the incoming VOCs by +98% at a thermal rate efficiency (TRE) of 95%.
To address the concern of particulate carryover and buildup into the oxidizer, CPI utilizes a special silicone media design which provides reduced pressure drops and the highest thermal efficiencies.
CPI provided design and supply of the RTO on a customer supplied concrete pad along with a new VOC collection system. CPI also furnished a complete engineering package including foundation, ductwork and electrical design details and layout. CPI worked closely with the customer to minimize the downtime associated with the installation of the new RTO. CPI was able to complete a good portion of the installation activities before the new unit arrived on site while on-site supervision ensured coordination with the third-party sub-contractors. This approach guaranteed that entire system was installed correctly, and the facility was back up and producing product with minimal downtime.
Since 1969 CPI has been providing the coating industry with solutions to their air pollution control needs.
Today, CPI partners with its customers as a trusted resource in resolving the most complex air pollution and energy conservation problems. We provide our customers with innovative and cost-conscious solutions to their most complex VOC, NOx, and Odor pollution challenges. Our equipment is also at work meeting energy conservation strategies and minimizing greenhouse gas (GHG) emissions.