At Catalytic Products International, we work with a wide variety of clients to help them meet their air pollution control needs. While each client is different, our experience and expertise ensures that we are able to help them address and resolve the issues they experience. In this series of customer testimonial blogs, we'll be sharing some of these success stories.
For today's testimonial, we spoke to Bud Terpstra of Advanced Flexible Composites. AFC's product is conveyor belt material, which consists of a silicone coating over fiberglass. Their facility uses xylene as a solvent to smooth out silicone rubber over the fiberglass, and once this process is complete, the solvent is removed and destroyed using a thermal oxidizer.
One issue which AFC experienced was that the solvent laden air (SLA) crossed two separate heat exchangers, and when the SLA was heated, residual silicone in the air became silica sand, which would pack in the heat exchanger and reduce flow.
"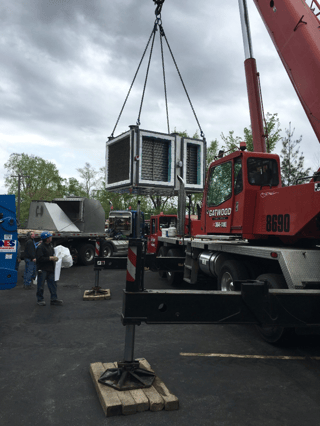 CPI recognized our problem right away," said Bud, "and they changed the orientation of the system to keep the silica sand from packing up on the outside of the heat exchanger tubes, where it was difficult to clean. Now, the silica remains on the inside of the tubes, where it can be pushed through or vacuumed out, and it is much easier to maintain."
One other feature that CPI was able to provide for AFC is a floating tube design that incorporates an air seal. This seal ring allows the pipe to expand or contract as temperature changes, removing the possibility of fatigue cracks. "Nobody else was able to provide this type of seal," said Bud, "and we picked CPI because they were able to provide a superior design for our process."

"CPI provided excellent engineering support, coordinating with multiple vendors to the provide the fabrication, installation, and upgrade of our equipment. Their scheduling, prep work, and pre-measurement was phenomenal, and they kept us in the loop on how everything would be scheduled and what would be accomplished each day of the installation.

"We were especially impressed by how quick and easy the installation process was. Normally, doing this kind of work in our facility would take two to three weeks, but CPI was able to complete it in a single work week. Construction started on a Monday morning, and by the following Friday, everything was in place, and we were able to do system and safety checks a full day early. Our people were amazed that they were able to come in the next Monday morning and start up production!"
With this installation, AFC has already seen a significant reduction in their fuel consumption, and in addition to these savings on fuel, they anticipate a rebate from Nicor Gas of around $30,000. CPI also was able to make adjustments and upgrades to their existing control system to make sure that it was compatible with the new equipment, and we followed through with ongoing support. The increased efficiency, ease of maintenance, and improved design made this project a definite success!
If you have any questions about how we can help you improve your air pollution control equipment, please contact us. We hope you will be our next success story!