At Catalytic Products International, we work with our clients every day to help them ensure that they are addressing their air pollution control needs as efficiently and cost-effectively as possible. With our years of experience and level of expertise, we can help them address their concerns and find the best solutions to meet their needs. Each client we work with is different, and we want to share their stories to show how CPI can provide the best air pollution control solutions for any industry.
For today's testimonial, we spoke to Lou Ebert of Lithographic Industries. They produce carded packaging, and the catalytic oxidizer which their facility had been using to eliminate volatile organic compounds (VOCs) was aging, so they needed to find a solution that would allow them to continue operating.
After comparing the cost of repairing the existing oxidizer against the cost of a new system, which would provide them increased thermal efficiency, decreased operating costs and the ability to increase production, it was evident that replacing the old system with a new 10,000 SCFM regenerative thermal oxidizer (RTO) would be the best approach.
CPI worked with Lou and his company to help them determine whether to repair their existing equipment or purchase a new solution. After comparing the cost of repairs with the increased efficiency and decreased operating costs of a new system, it was decided that replacing the old system with a new, more thermally efficient regenerative thermal oxidizer (RTO) would be the best approach.
"I've been working in graphics technology all my life, and CPI was able to combine my expertise in my industry with their own expertise in air pollution control to determine the best solution," says Lou. "We had a great relationship, since they know what they're doing, and we know what we're doing, so working together made the process easy."
Lou was impressed with how well planned and coordinated the installation was. "CPI was able to put together the correct specifications and work with a series of vendors who are all really good at what they do. They specked out the materials, procured them, and put them all together, making sure that it was right the first time. The oxidizer was all loaded up with media when it got here, and we were ready to rock and roll!"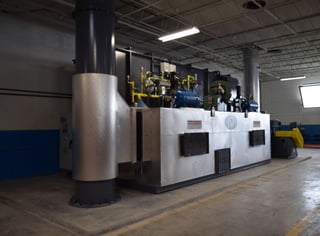 The new RTO is already paying off. Lou says that "With the new system, we're able to operate at a higher volume, due to the increased efficiency and higher air pollution destruction ratio that it provides. We've already found significant energy savings, and we're expecting even more this winter, since our previous system was located outdoors, while the new one is inside." In addition to these savings on fuel, they anticipate a rebate from Nicor Gas of around $13,000.
"We loved working with CPI. They provide a custom made, high quality solution that is well engineered, and they have great people that know what they're doing and get things right the first time. They did a wonderful job; everything went off without a hitch!"
If you want to know more about how CPI can help you find the best solution to your air pollution control needs, please contact us. We look forward to making you our next success story!