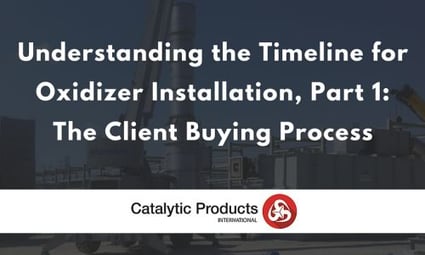 One of our most frequently asked questions is, "How long does it take to build an oxidizer?" The answer depends on the client's procurement process as well as the complexity of the equipment and location of the site. This series of blogs will focus on a typical industrial process utilizing a standard thermal oxidizer, catalytic oxidizer, or regenerative thermal oxidizer. Since this is a complicated topic, we wanted to separate it out into a few steps. In this first blog, we'll look at the client buying process.
Note: Clients with complex specifications (such as API or CE compliance), unique construction materials, lengthy review and approval processes, or other installation criteria may require more time to complete their installations, since these factors will often lead to longer delivery schedules.
We'll start our example timeline off early in the buyer's process, since the lead time for installing any VOC abatement equipment can only begin after customer purchase orders are accepted. In order to help engineers avoid potential delays, we'll also define tasks that take time in our customers' purchasing process. Often, a customer delay on the front end of purchasing results in expediting equipment and installation on the back end of the project, which can lead to additional costs and potential errors. Hopefully, early identification will help EPA regulatory affairs personnel deliver the project on time and under budget.
Description of Steps and Recommendations

Duration

Technology Qualification

In this step, process or project engineering staff contacts vendors with application data.

Recommendations: A discussion about the process and environmental goals or outcomes will help the air pollution control equipment vendor direct the customer to the appropriate technology.

2 weeks

Vendor Qualification

Once the customer has a clear understanding of the process and the appropriate technology, identifying and choosing vendors that are experts should be a relatively smooth and fast process.

Recommendations: Areas that can slow this timeline are procurement pre-qualification reports and evaluation. Qualifying vendors should be flexible under these demands and adjust the time frame accordingly.

2 weeks

Scope Definition

At this point in the buying process, the client's engineering team should have a clearer scope of the project. Many times, these projects can be overwhelming for first time air pollution control users.

Recommendations: It will be helpful to have an understanding of how much of the installation the client is willing to take on directly. Additionally, requesting a "turnkey installation" may be a great start to establishing a budget and learning more about the VOC abatement project.

1 week

Funding

In some cases, clients have immediate problems that call on emergency or reserve funding. In other cases, capital funding can be a process that is determined by Boards or C-suite executives.

Recommendations: Any team charged with air pollution control projects should have a clear understanding of the situation and convey the funding timeline accurately to qualified vendors.

From this point on, let's assume that project funding has been established by the corporation, and there is a set budget in place.

Immediate - several months

Request for Proposal

Ahhh….the loved and hated RFQ. Ideally, accurate and detailed proposals from expert-in-the-field vendors should not exceed two weeks.

Recommendations: Additional time may be required if complex installations are part of the scope. This should be easily identified in the qualification and scope definition steps.

2 weeks

Proposal Review

This time frame has a multitude of factors that impact the time frame for approval. We've tabulated years of statistics about sales cycles for various equipment and various customers. Please visit our Request a Quote page for examples of the questions we ask in order to help discuss technology and budgets.

Recommendations: Private entities are statistically faster at making decisions than public corporations. The time frame provided offers our statistics for each as a range.

Common steps in the customer review process:

Reference checks or reference visits

Vendor factory inspection or visits

Customer review process; are changes to the scope initiated?

EPA permitting submittal and approval; are permits in hand, or is a permit required prior to order?

Other equipment or construction activities

4 - 8 weeks

Preparation for Purchase

Again, this time frame for purchase will depend on the unique corporate requirements for procurement.

Recommendations: In general, private entities can purchase in very short order, while Fortune 500 clients may require a longer lead time to deliver purchase orders. Our statistics indicate that the average time frame after receiving verbal acceptance can be 18 days before an accepted order is received.

3 weeks
We hope this timeline helps you understand the steps in the client buying process, but if you have any questions, please feel free to contact us. Please stay tuned for our next blog, in which we'll look at the timeline for oxidizer delivery.