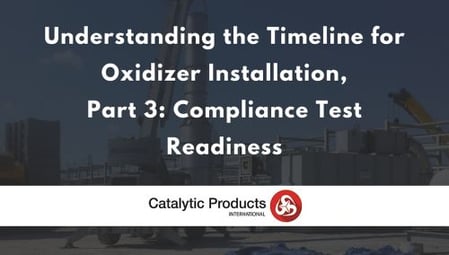 One question which we frequently receive is about the length of the process of building and installing an oxidizer. There are many factors which influence the oxidizer installation process, including the client's procurement process and the complexity of the equipment and location of the site. In this series of blogs, we've been taking a look at a typical industrial process utilizing a standard thermal oxidizer, catalytic oxidizer, or regenerative thermal oxidizer. We've previously discussed the timelines for the client buying process and oxidizer delivery and installation. In this final blog, we'll look at the timeline for compliance testing.
Note: Clients with complex specifications (such as API or CE compliance), unique construction materials, lengthy review and approval processes, or other installation criteria may require more time to complete their installations, since these factors will often lead to longer delivery schedules.
Description of Steps and Recommendations

Duration

Commissioning and Operator Training

After the oxidizer has been correctly installed, it is time to conduct startup and commissioning procedures. This process is usually conducted by the technical service team from the oxidizer vendor.

Recommendations: It's important that a commissioning plan is followed to verify the numerous safeties are fully operational. The commissioning process will require 3 to 4 days.

After the oxidizer has been properly commissioned, it is common to feed the process exhaust to the oxidizer and balance production conditions to the oxidizer. This process usually requires one full day of balancing, observation, and final adjustment.

Operator Training is the final part of this step. The technical service team will explain and review the basic operation of the oxidizer, any specific EPA permit requirements, typical troubleshooting steps, and maintenance practices. Operator training can be accomplished in a few hours, or it may take several days if more than one shift is required.

1 week after installation

Compliance Testing

Compliance testing is conducted by a contracted third party. They are usually an expert in applying EPA testing protocols for compliance verification. The testing procedure should be less than 2 days, but it may take several weeks to confirm schedules.

It is routinely suggested to allow several weeks of run time before scheduling the testing contractor.
Recommendations: It is important to plan for process run time in the project schedule planning phase.

Compiling the testing report can take up to two weeks.

4 weeks of prior run time

2 weeks for report submittal

Operating Permit Issued

The time frame for the operator to receive the EPA operating permits will vary drastically based on the permit type, industry, state, and other factors.

Recommendations: If a professional permit consultant is engaged in the project, it is important to ask questions early in the process to have a clear understanding of expectations. If the client is scrambling to obtain an operating permit by a specific date, this could be milestone task that no one but the approving agency has any influence over.

Several weeks
"How long does it take to build an oxidizer?"
As we've discussed, the answer can vary. The summary of our assumed process is:
Client Buying Process: 14 weeks to several months
Oxidizer Delivery: 16 weeks after purchase order
Compliance Test Ready: 5 to 9 weeks after installation
Total Time Frame: Almost nine (9) months to over one (1) year
We hope this series of blogs that delve into the timeline for purchasing and installing an oxidizer helps you understand the process, but if you have any questions, please feel free to contact us.